Quadrocopter - a flying machine with four rotors, sometimes referred to drones.
Sometimes also referred to as quadrocopter copter (short version) or multicopter, but the last name longer applicable to aircraft with more than 4 rotors - hexacopter (6 motors and, respectively - propellers) and oktokopter (8 rotors).
Conventionally quadrocopters can be divided into 2 types:
quadrocopters with the camera
quadrocopters without the camera
In turn, copter each type can be classified into professional and amateur.
Professional quadrocopters fully loaded cost several thousand dollars. They are made from high quality materials (as a rule - of carbon fiber), equipped with a GPS module, the most advanced flight controllers, compasses, sometimes - sensors and other devices. Since most video quadrocopters used for air, they can be equipped with special cardan suspension, that the camera is stabilized. The cameras are different - from 3 to GoPro cameras costing thousands of dollars.
Among radio amateurs do not have a clear definition of the values of a professional quadrocopter with the camera. For example, in the famous TV show "Heads and Tails" for filming from the air used quadrocopter DJI Phantom 2, while it is considered amateur copter. But, in general, copter for aerial video footage it is unlikely you will be cheaper than a few hundred dollars, excluding the purchase of additional accessories.
Amateur quadrocopters primarily intended for "fun" (pleasure) from the control and piloting them. Because they are much cheaper, but their sizes are sometimes so insignificant that such models are called nano-copter.
Amateur quadrocopters and copter rotors with many often do not carry the camera, as if this is present, the quality of video recording it leaves much to be desired (though manufacturers like to add «HD» prefix to the names of their radio-controlled drones). It is understandable - the camera for $ 20-30 are unlikely to shoot the video in this resolution.

On amateur multicopter Prices start from a couple of tens of dollars and end a few hundred dollars, the same as the Parrot Bebop Drone.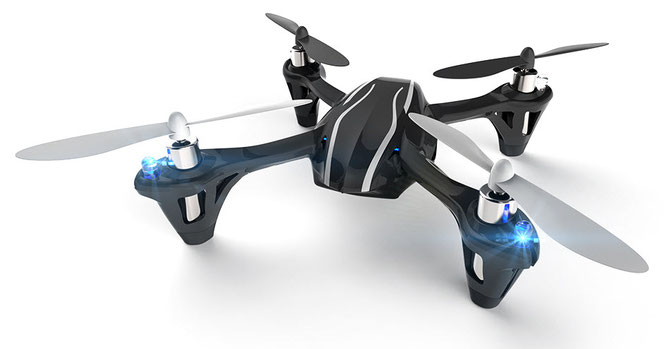 n the world there are dozens of companies that are engaged in production quadrocopters, but really is just a few well-known companies. The most famous - is, of course, the Chinese Dji Innoivations, whose lineup quadrocopters has more than 10 models. Among other manufacturers quadrocopters the move can recall the company Parrot, Walkera, Hubsan, Nine Eagles, Syma Toys.
In the world there are dozens of quadrocopters models and, at times, choose the appropriate quadrocopter quite difficult. Therefore, we have a special heading "Reports quadrocopters" in which you can find a detailed description of each model, to know technical details, watch the video and photos.
In 2015, already published several interesting models quadrocopters (DJI Inspire 1, Walkera Voyager 3, etc.), and how much more quality and special copter awaits us in the future ...!