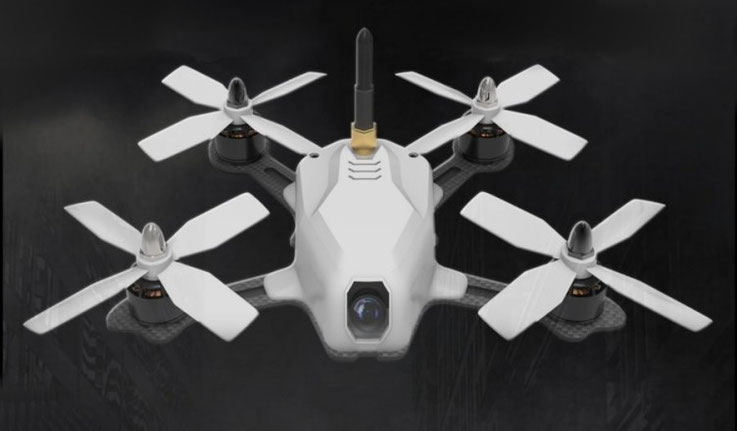 Youbi XV-130 - miniature brushless race quadrocopter with a 4-in-1 card and support for 4S-batteries. In this review, we will carefully study this interesting novelty and see how it behaves in the air.
In the box with the drones you will find:
130-mm quadrocopter
Two rubber bands for attaching the battery
Two sets of 3x3x4 propellers
PPM cable
SBUS cable
Cable XT30 - JST
Linear VTX Antenna 5.8 Ghz
Before you start flying on this kid, you will need another 3S or 4S battery, a radio transmitter and a control panel, as well as FPV-glasses or an FPV-helmet.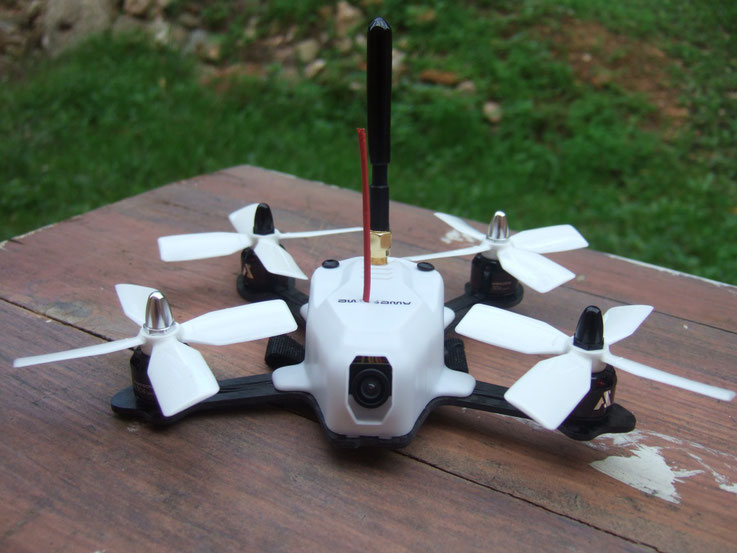 130 mm solid carbon frame with plastic canopy
Flight controller F3 SPRacing with gyro MPU6050
Built-in 40-channel video transmitter with variable power (25mW / 200mW / 400mW)
Speed regulators 4-in-1 20A BLHeli_S
Motors 1306 3600kV with propellers 3x3x4
Camera 600TVL CMOS with a viewing angle of 100 degrees
Support for 3S and 4S batteries
Quadrocopter weighs 127 grams with the installed receiver X4R-SB. With a 4S-battery Dinogy 600mAh the weight of the drone will be about 200 grams.
Frame Youbi XV-130 - 130-mm type "DeadCat" (similar to the "cross", but the front two rays are longer than the two rear). It consists of a carbon bottom plate and a plastic canopy that protects the electronics. The quality of the carbon used in the lower plate is high enough, its thickness is 2 millimeters. The frame also expands slightly in the place where the motors are fastened, providing additional protection. The upper plastic canopy is available in three colors: white, gray and black.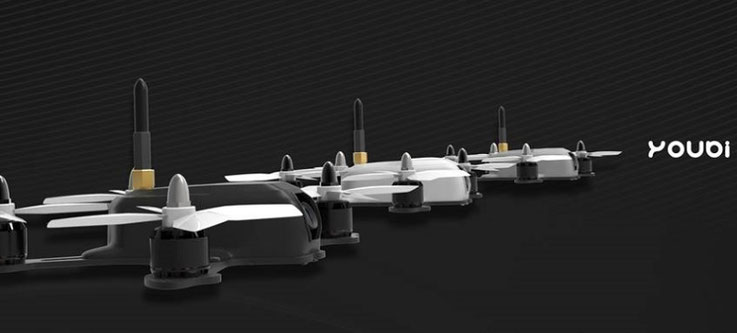 This quad copter uses the F3 SPRacing PC with the MPU6050 gyro and the preinstalled Cleanflight 1.14.0 firmware. The PC integrates a video transmitter, as well as a miniature display and a button for switching channels. At the bottom of the board you will find all the connections and connectors: 6CH PWM-input, inputs PPM / SBUS, UART1 and UART2, as well as a soldering pad for the pshchalki and LEDs. In the kit with kvadrokopterom no buzzer, but you can easily solder it if necessary.
Youbi XV-130 boasts powerful 1306 3600kv motors, capable of running from a four-cell battery! The height of the shaft is 11 millimeters, diameter - 5 millimeters. In a set with a drone are four-blade 75-millimeter propellers.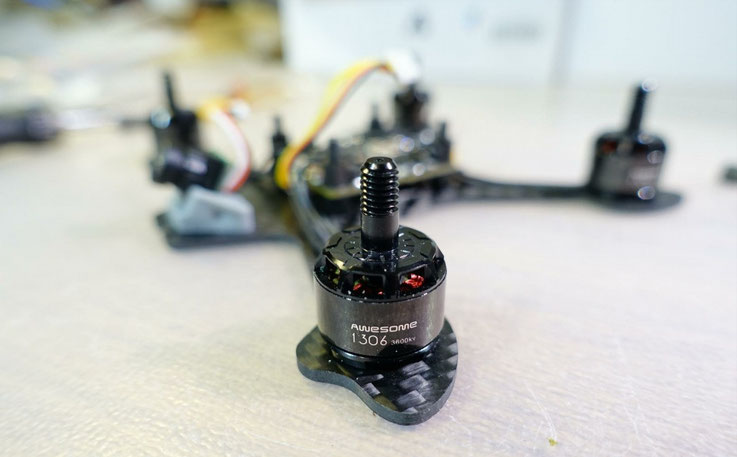 According to the specifications, the Youbi XV-130 camera is a 5V 600TVL CMOS with a FOV of 100 degrees. The angle of inclination of the camera is unchanged and is 30 degrees, but this is quite enough even for fast flights.
The video transmitter has 40 channels and variable power (25mW / 200mW / 400mW). It comes with a SMA-connector and a linear antenna.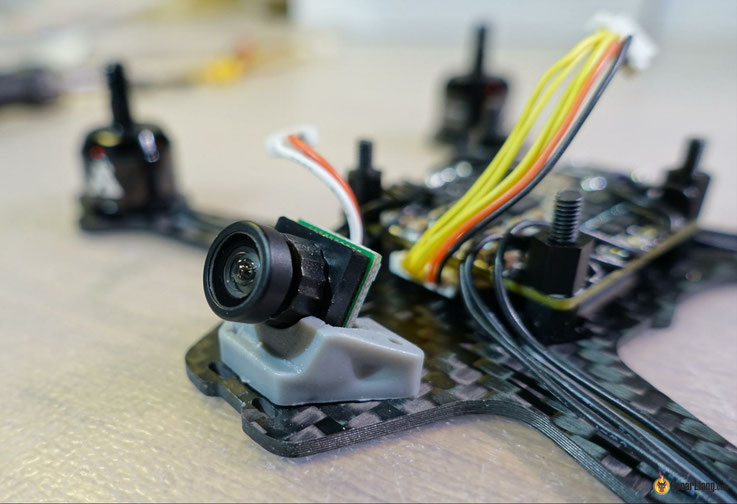 Quadrocopter flies well out of the box, but it's even better revealed after adjusting the PID settings. Experienced we have established that with such settings the drone starts to fly almost perfectly:
The quality of FPV-pictures is very worthy. Of course, do not expect a dynamic range, like on HS1177 or Runcam Swift. For example, if you look at a bright sunny sky, objects in the shadows will be virtually indistinguishable.
However, this is not a big problem, as the camera quickly adapts to the level of illumination and changes the exposure. The Quadroopter flies very fast already with 3S 35C 900mAh Li-Po batteries, however if you want a dizzying speed, install a 4S 500mAh - 1000mAh battery. Quadrocopter is also able to raise a HD-camera (for example, Mobius) without problems to record flights.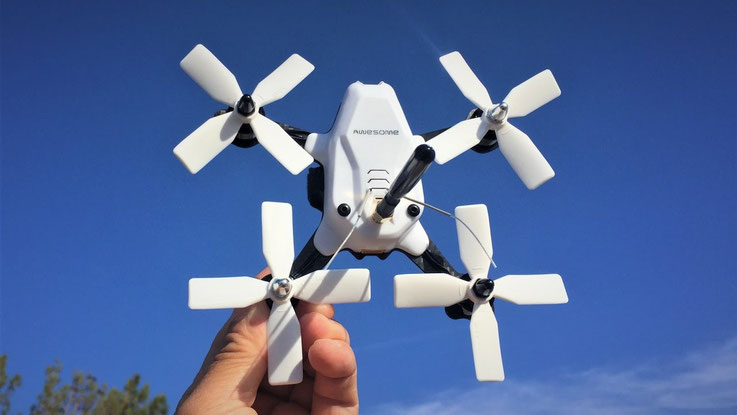 Youbi XV-130 is an excellent and very fast quadrupter of compact size. Its, in fact, the only drawbacks - the lack of OSD and built-in pishchalki. At the same time, the price leaves no doubt: we must take it! We are also very impressed that this kid is capable of lifting a heavy 1000mAh 4S battery and an HD camera.