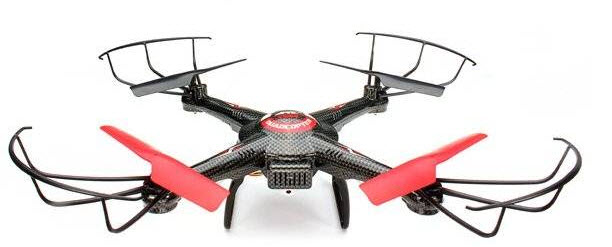 Title: JJRC V686 5.8G FPV Headless Mode RC Quadcopter with HD Camera Monitor
quadrocopters Type: RTF
Price: about $ 80
Release date: January 2015
JJRC V686, which came in the winter of 2015, can be considered one of the most technologically advanced copter released by JJRC time in its existence. Why? Read below ...
Buying V686, you get:
quadrocopter
Remote Control
Battery and charger
HD-camera
FPV-monitor
antenna
Card reader and memory card 2 GB
4 protective shell
4 propeller
screwdriver
To start quadrocopters will need only to purchase batteries for the remote control and charge the battery.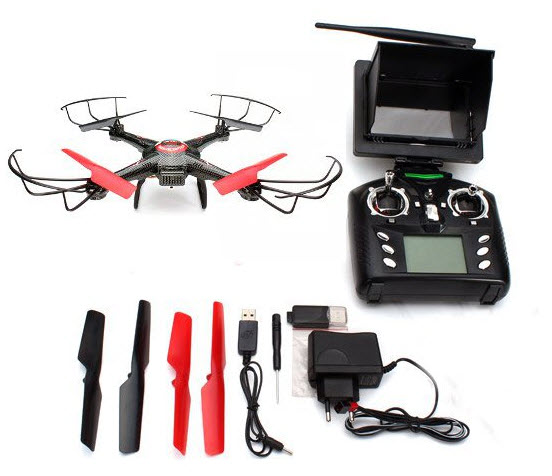 Especially in this quadrocopters few. Firstly, it is equipped with the FPV-camera that can transmit video directly on the LCD-display, which comes in the kit. The camera, by the way, finally began to work with a resolution of 1280x720 pixels, unlike previous models copter JJRC (except H8C and H12C, of course). Examples of videos taken with the camera, see below.
Secondly, it can fly in copter «Headless» mode. I mean, no matter what part of his body quadrocopter will be deployed to you during the flight - Electronics copter will assume that he will turn back to you with screws, regardless of how things are in reality.
Third, the base material in the manufacture of carbon fiber was quadrocopters. Typically, this material is used to create more advanced and expensive copter, the price of which starts from a few hundred dollars. What are the advantages of carbon fiber to the plastic? It's simple: it is a strong, but at the same time easy.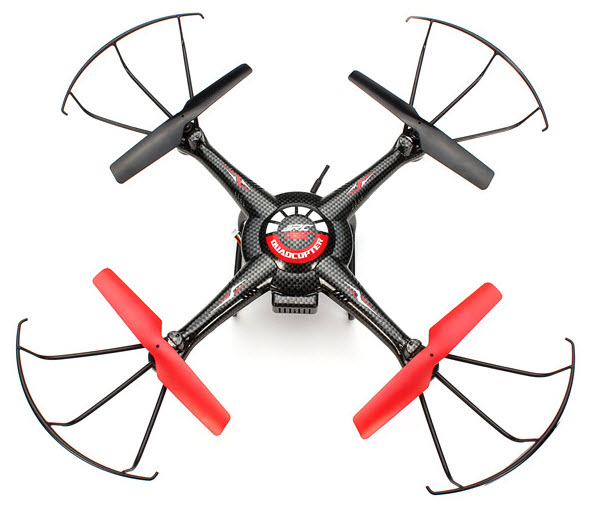 In addition, the copter is equipped with a function to return home, that is activated by pressing just one button on the remote control. However, as the V686 is not equipped with a receiver GPS, he is not able to determine where his initial take-off point, so when you press this key, it just flies in the opposite direction.
V686 is equipped with a lithium-polymer battery with a capacity of 500mAh. His on average lasts for 8 minutes of flight, and the battery is charged for 90 minutes.
Another advantage of the copter over other models JJRC is a good range of powered flight - about 100-150 meters and is much more advanced electronics that can normally stabilize quadrocopter in flight, allowing to write quite good video.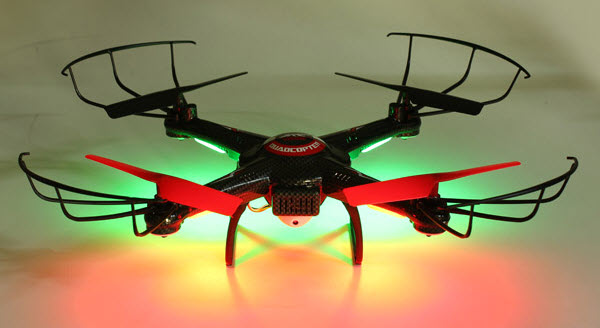 Main material: carbon fiber
Dimensions: 360 x 360 x 85 mm
The maximum flight time: 8 minutes
Maximum range: 100-150 meters
Charging time: 90 minutes
Power Supply: Li-Polymer battery 3.7V 500mAh capacity
Power supply remote control: 6 AA batteries
The operating frequency of the remote control: 2,4 GHz
Camera: 2MP
Video Resolution: 1280x720
A detailed review of V686 in English, including unpacking and testing quadrocopters
In conclusion, we can say with confidence: JJRC after many attempts finally released quadrocopter quality, worthy of its price. It is quite stable in the air, has good flight characteristics and is equipped with everything necessary to get the maximum pleasure.
For example, for the same $ 110 it sold another model - JRC H9D, but this model V686 is noticeably inferior in all respects. We can say that V686 is currently one of the best quadrocopters in its price category.