On this page, you can download User manuals for SpeedWolf drones and it accessories:  SpeedWolf VAJRA80, SpeedWolf VAJRA20, Chaser, 3DQ 500, VAJRA80-fishing, VAJRA80-HD-WIFI, DRBOX2 (Mobile Control&FPV), DRBOX2+, VAJRA80-HD, VAJRA80-FP0 (With OSD), VAJRA80-WIFI, VAJRA80-FPV.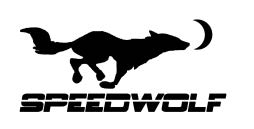 | | | |
| --- | --- | --- |
| Title | File Size | Download Link |
| SpeedWolf 4K sports camera User's manual.pdf | 615.1kb | |
| SpeedWolf Fish Finder User's manual.pdf | 4.8Mb | |
| SpeedWolf FPV GOGGLE User's manual.pdf | 672.8kb | |
| SpeedWolf HD 7inch FPV Display User's manual.pdf | 404.2kb | |
| SpeedWolf LCD FPV display User's manual.pdf | 417.5kb | |
| SpeedWolf SP-C400 and SP-500 camera User's manual.pdf | 449.8kb | |
| SpeedWolf VAJRA80 Calibration User's manual.pdf | 1.8Mb | |
| SpeedWolf VAJRA80 User's manual.pdf | 4.2Mb | |
In the rapidly growing market multicopter presented dozens of companies and hundreds of models. Intense competition has led to the fact that small little-known manufacturers tend to occupy a niche not due to new developments, but by copying or borrowing decisions at the more popular brands. Company SpeedWolf went down the same path.
SHENZHEN SPEEDWOLF TECHNOLOGY CO, LTD -. Chinese manufacturing company with headquarters and factory in Shenzhen city. Manufacturing is also carried out at the second plant, which is located in Dongguang (own industrial park). The modern laboratory allows the company to engage in the development and introduction of new technologies, many of which have been patented. Finished products undergo all the necessary tests and trials, and is certified under the international quality standards.
The company specializes in the production of goods for outdoor activities, including quadrocopters, HD action camera for sports, the FPV-glasses, etc. In the market the company entered in 2014. However SpeedWolf failed to win popularity multicopter market, since many of its design are copies of famous models from other manufacturers.
In 2014, the company released just two quadrocopters, which are called VAJRA20 and Chaser. Both models were originally developed by other manufacturers, SpeedWolf just bought the rights to sell them. Now these quadrocopters no longer be found on the company's website, but they were the impetus for the young brand recognition in the market.
Quadrocopters SpeedWolf VAJRA20 originally wore Seraphi Phantom name and was manufactured under the brand Yunyi. In turn, the company Yunyi inspired by its design and development capabilities of the popular quadrocopters DJI Phantom 2.
The device is made of white plastic, fitted with four nine-inch propellers and LED backlighting. Removable landing gear - set to fly with the suspension (not to hit the camera and the ground upon landing) or removed for flight only with the onboard camera.
VAJRA20 quadrocopters compatible with GoPro cameras and can be used as a fairly low cost flying platform to air the video, as is able to carry the additional weight of 650 grams. The camera that comes bundled, can shoot video in HD format, but since it is integrated into the machine body, its possibilities are very limited.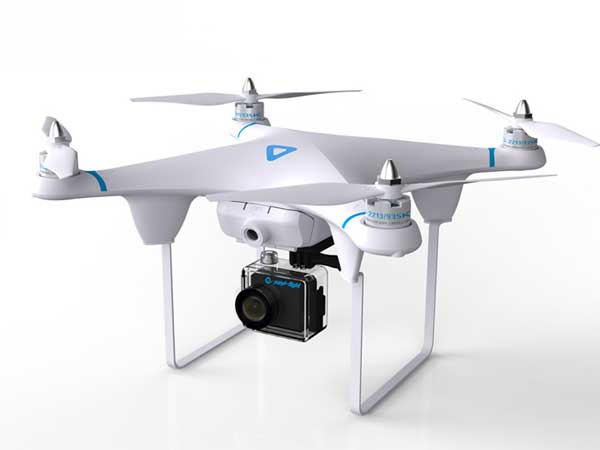 Features of quadrocopter:
possibility of installing two batteries, each 2200 mAh - one to hold the air quadrocopter to 15 minutes, but two can fly up to 20 minutes;
control with two devices with one remote control.
Chaser Model - a complete copy of the popular quadrocopter JJRC H8C. Interestingly, JJRC company also copied his model from another manufacturer - quadrocopter virtually identical Syma X5C.
Quadrocopters Chaser is a compact unit, complete with a two-megapixel camera. Additionally equipped with a removable plastic cover propellers, which is the hallmark of his appearance and gives the model a recognizable look. High-power LEDs allow you to run quadrocopter night without fear - a vivid and fascinating spectacle guaranteed.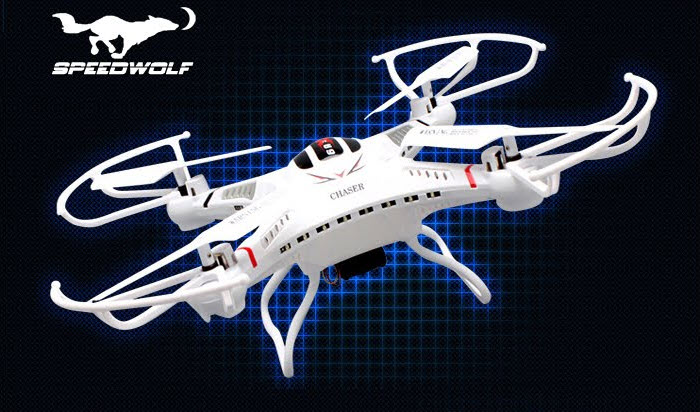 Only the third quadrocopter can safely be called a proprietary company SpeedWolf. He was released in late 2014 and was named VAJRA 80. His flight opportunity provided by the developers - a serious bid to compete with modern devices that support the GoPro camera.
VAJRA 80 is compatible with gimbals for action camera and is equipped with a GPS-module with support for automatic return function to the starting point. quadrocopter housing is waterproof, allowing you to run it in the rain or fog, without risk of damaging the electronics. I resist wind and clearly responds at team pilot. Quadrocopters comes with a lithium-polymer battery capacity of 10,000 mAh. The duration of the flight without any load can be up to thirty minutes.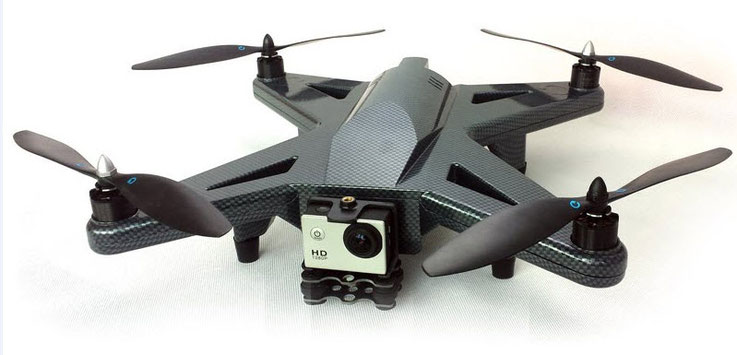 In order to satisfy the demand for different types of quadrocopters, the company has developed just ten modifications VAJRA 80. In the basic configuration (Basic Version or VAJRA80-GPS) pilot receives all necessary for the flight:
quadrocopter;
chassis and three sets of propellers;
battery;
flight controller, an electronic compass and a module-GPS;
remote control;
user guide;
instruments;
software.
VAJRA80-HD version supplemented production camera SpeedWolf, waterproof box and a simple suspension. In a move version VAJRA80-AP included is a two-axis gimbal.
For live video streams from cameras online is offered in three versions. VAJRA80-WIFI - transfer is made to a mobile device, this also included is a mount for it. Version VAJRA80-FPV suggests the presence of a monitor set with fastening. Version VAJRA80-WIFI-FPV combines the two above.
Also in the assortment you can find versions that combine all of the above equipment in various configurations. The pilot will be easy to find a quadrocopter that supports exactly those functions that are necessary for the specific flight tasks, including versions:
VAJRA80-FP0 (With OSD);
VAJRA80-HD-FPV;
VAJRA80-HD-WIFI.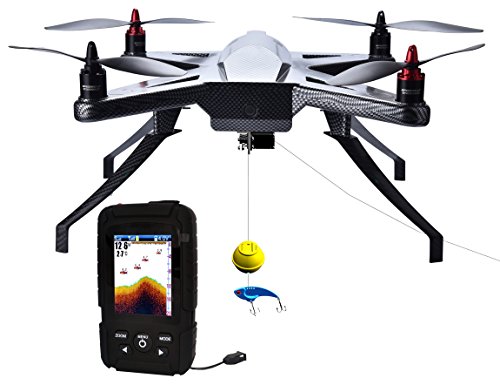 Last and quite exotic version called VAJRA80-FISHING. It is designed for high-tech fishing. Quadrocopters equipped with a holder for fishing line, at the end of which is suspended underwater 360-degree camera-float and bait hooks. The original solution, which is difficult to find analogues in the multicopter market.