| | | |
| --- | --- | --- |
| Title | File Size | Download Link |
| Aeryon SkyRanger - User Manual.pdf | 682.1kb | |
| Aeryon SkyRanger BROCHURE.pdf | 1.1Mb | |
The American company Aeryon Systems develops unmanned radio-controlled device. Specializing in the production of flying drones for individuals, military and civil service, and uses only the most advanced technology and modern materials. Functional drones Aeryon Systems is amazing, but also impressive and their cost.
The free market is available in two models of professional quadrocopters Aeryon Systems: SkyRanger and Scout. But we must bear in mind that they can only buy directly from the manufacturer. Next, a brief overview of each model.
Professional quadrocopter Scout was released back in 2009, but is still widely used for reconnaissance and observation purposes. In 2013 quadrocopter undergone a major upgrade, which allowed him to keep up in functionality from newer unmanned devices.
Dimensions quadrocopters:
size 80h80h30 centimeters;
weight of 1.4 kilograms;
the diameter of each of the four propellers - 3 centimeters.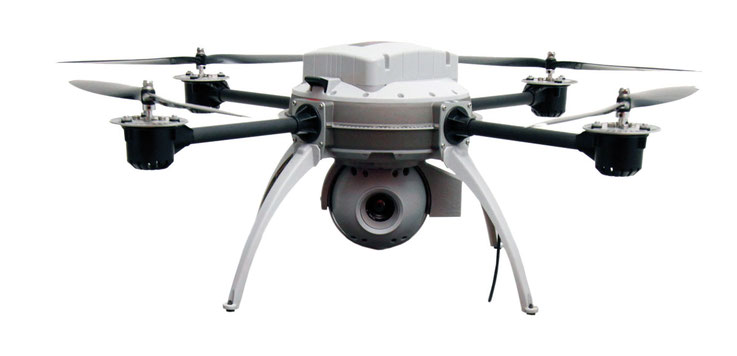 The maximum weight for take-off - 1.7 kilograms, so the pilot can be mounted on quadrocopter to three hundred grams of additional equipment. In particular, the suspension can be set and a video camera for aerial photography. Either thermal imager and other similar equipment for professional applications.
Aeryon Scout is specifically designed to operate in all climates. Design and Electronics quadrocopters can stably operate at a temperature of minus thirty to fifty plus degrees Celsius. The housing is protected against moisture, because Scout can be operated in rain and snow. Powerful motors are able to withstand sustained wind speeds of up to fifty kilometers per hour and gusts of wind up to eighty kilometers per hour.
Range quadrocopter flight is three kilometers away. Flight duration of not more than twenty-five minutes. This is not the best time in comparison with similar products, but Scout can reach speeds of up to fifty kilometers an hour. Lift speed is two meters per second.
Flight control is carried out using a tablet. Quadrocopters equipped with GPS-transmitter and the autopilot, so can be programmed to automatically fly to the desired path.
Available are two items:
RTF - quadrocopter and all the necessary equipment in a robust case for storage and transportation;
Map Edition - quadrocopter additionally equipped with a camera from Aeryon Systems and special software to create three-dimensional map area.
Of course, the price of Scout is still significantly higher than the average cost of new quadrocopters. But not any analogue can be operated in the climatic conditions of the desert or the far north. Scout - is a high quality professional quadrocopter able to solve the most complex problems of flight.
SkyRanger was developed by Aeryon Systems in 2013 to replace the Scout model. Outwardly, the two models are very similar - the colors, the design and placement of equipment in case SkyRanger completely borrowed from the older model. However, the functionality and the software have undergone a major upgrade. The work on the one hand was the greatly increased price, on the other hand - SkyRanger can be used to address a vast number of research, intelligence and scientific problems.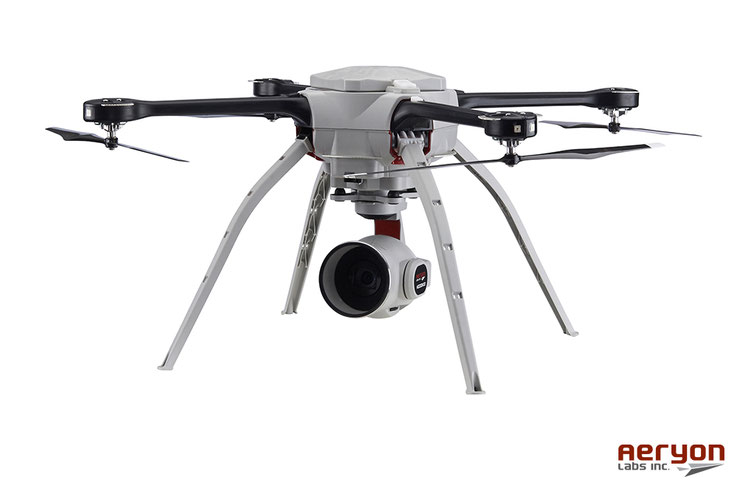 Major changes in flight characteristics:
SkyRanger capable of continuous flight for fifty minutes - an incredible figure for such a small quadrocopters;
increased motor power - SkyRanger easily resists wind with a speed of 60 kilometers per hour, including gusts up to 90 kilometers per hour;
when used with optional accessories range can be up to five kilometers;
Maximum altitude - 1.5 kilometer.
Modifications undergone and design - now all part of quadrocopters can easily replace even in the field (including the chassis and the propellers). For ease of transport beams can be folded. In this case, SkyRanger fit easily into a backpack or bag.
SkyRanger compatible with the latest cameras produce Aeryon Systems, which can record video as 1080p and take photos with a resolution of 15 megapixels. Also, it is equipped with an infrared camera. Quadrocopters can carry on itself additional equipment weighing up to one kilogram, making it indispensable for scientific research. Data from the cameras are transmitted to the base station at a distance of five kilometers in an encrypted form.
Management is carried out using a tablet. The pilot simply marks the point on the map terrain, and quadrocopter independently carries out the flight. For more precise maneuvers, use the joystick.
Quadrocopters from Aeryon Systems are not designed for mass use in amateur purposes - for that they are too expensive. However, they are the best choice due to its reliability and ability to work in almost all weather and temperature conditions for professional purposes (tracking wild animals, military intelligence, the creation of maps and the like).