Phantom 2 Vision - the successor of the Phantom 2, the fourth model in the series quadrocopters from a Chinese company DJI Innovations. What are the changes compared to the Phantom 2 is expected from the new model, and what strengths and weaknesses have her read below.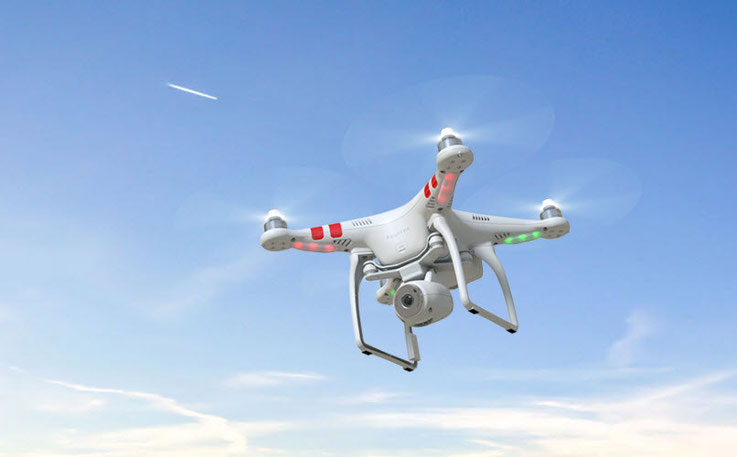 Title: DJI Phantom 2 Vision
Series: Phantom
quadrocopter Type: RTF
Release date: November 2013
Price: $ 500
The design of the DJI Phantom 2 Vision has not undergone any significant changes, compared with Phantom 2 (click image to zoom)
As for functionality, read about them below.
Phantom 2 Vision comes with a 14-megapixel camera that can record video in the resolution of Full HD 1080p (30 fps) and 1080i (60 fps); Video lower resolution can be selected via an application (see below). The viewing angle in this case is 140 degrees, which is why there is the effect of "fish-eye" when the horizon looks very rounded, perhaps even more than the GoPro.
Below is an example of the video, shot on Phantom 2 Vision:
In addition to video, the camera can also take pictures at a resolution of 4384 × 3288, which can be saved in JPEG or RAW formats. Photos in JPEG takes about 4 megabytes of space, but the delay is five seconds in RAW same photo took about 20 MB, and the delay increases in times 4 and is about 16-20 seconds. Examples of photos taken with the help of the Vision Phantom 2, you can see below (click to enlarge):
By the way, between the chamber and the housing and can be installed quadrocopter 4 anti-vibration damper, which is almost completely absorb the vibration that comes from quadrocopter motors and propellers. However, not all stores, these shock absorbers are sold complete with quadrocopter.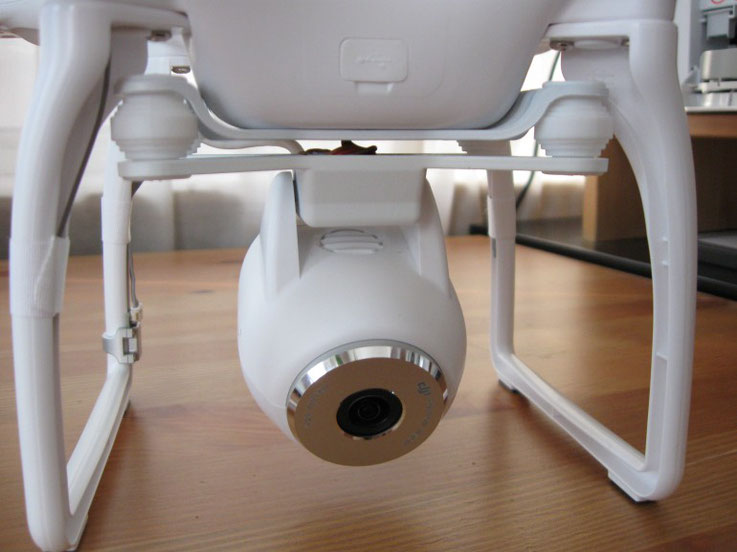 Minus chamber can be considered that there is no microphone. On the one hand, he's not particularly necessary, but on the other hand, users will have to add a separate audio track to the video, because video with natural sounds of nature much better than the video without any sound at all.
Another disadvantage of the camera is that it has no port line-out and get the record can only be via WiFi or removing the microSD card from the camera. Incidentally, the 4-gigabyte card is included and supports cards up to 32 gigabytes.

Also worth noting is that you can not remove the camera from the quadrocopter.
Managed quadrocopter Phantom 2 Vision using the remote control: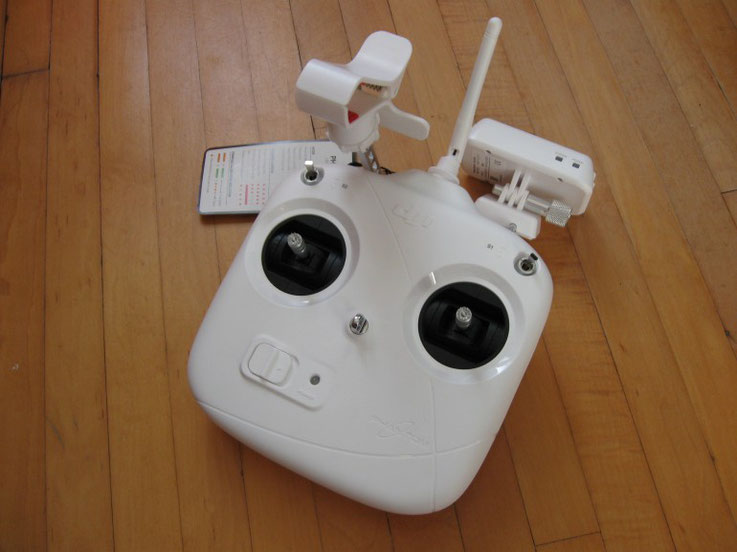 Before you start quadrocopter its first flight needed to calibrate the compass - it is a precaution that can protect your quadrocopter from flying away in an unknown direction. To do this, flip up and down several times a second joystick on the remote control until both the Phantom 2 Vision will start flashing orange lights. Then, it is necessary to take in hand and to wrap 360 degrees slowly around its axis. If the lights are lit green, the compass is calibrated and ready to fly quadrocopter. If the lights are lit in orange, it means that the GPS still does not work, and Phantom 2 Vision emergency point of no return is not defined. In that case, launch copter may end in failure.
The main difference in the management of DJI Phantom 2 Vision from the previous model is that the control panel can be connected to a smartphone or tablet (supports Android platform or iOS) after setting the DJI Vision application. Later, on a smartphone or tablet will be sent all the information during the flight online: battery status, WiFi and GPS, the distance from the start point, altitude, airspeed, the number of remaining shots and other information.
In addition to obtaining information during the flight, connected tablet or smartphone can also be used as a remote control.

As the flight to quadrocopters looks in the program dJI Vision:
As seen in the video below, sometimes lose touch with quadrocopter. No major problems for this is does not lead, but just fire in quadrocopters preinstalled automatic return to the original point of departure and an independent off. It is activated only if the link is lost for a few seconds.

Claimed flight distance - 300 meters, but more than 200 could not squeeze. Maximum height - about the same 200 meters.
DJI Phantom 2 Vision runs on a lithium-polymer battery capacity to 5200mAh, which contains the power button off and on, and which is located behind the quadrocopter. A full charge lasts an average of 25 minutes of flight, and remove the battery for charging is no problem.
If you decide to take an extra battery, you'll have to take the brand, from the DJI, which costs about 130-150 bucks. On the other batteries Phantom 2 Vision will not work - why and how to solve this, see the overview Phantom 2 Vision Plus, see "Battery". If you want to save, but do not bother, it makes sense to just take an extra battery included with quadrocopter. In this case, it will cost you $ 70-100.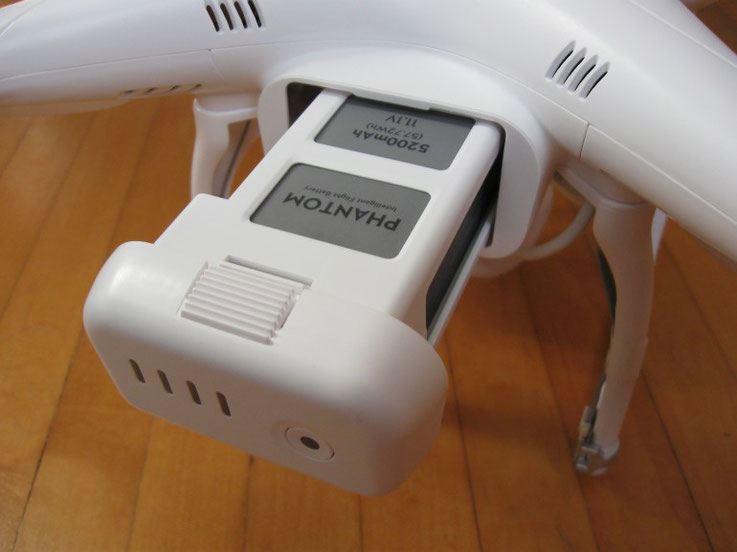 Battery: Lithium-polymer battery capacity of 5200mAh in
Weight (including battery and propeller): 1160g
Flight Precision Vertical: 0.8 m; Horizontally: 2.5 m
The maximum yaw rate 200 ° / sec
The maximum tilt angle: 35 °
Maximum speed at take-off / landing: 6 m / s at takeoff, 2 m / s landing
Maximum flight speed: 15 m / s (not recommended)
diagonal length: 350 mm
The limit tilt mount with the camera: 0 ° -60 °
Working frequency: 5.728GHz-5.8GHz
Range (in open space): CE: 300 m; FCC: 500 m
Receiver Sensitivity (1% PER) -93dBm
Transmitter power: CE: 25mw; FCC: 125mw
Operating voltage: 80 mA @ 6V
Battery: 4 AA batteries; You can buy a rechargeable battery
Resolution 14 megapixels
The viewing angle of 120 ° / 110 ° / 85 °
Type of matrix CMOS 1 / 2.3 "
Functions
Video recording in 1080p (30 frames per second) or 1080i (60fps)
Pictures in JPEG and RAW
Working frequency: 2412-2462MHz
Range (in open space): 300 m
Transmitter power: <= 17dBm
Power consumption: 1.5 watts
Requiresthe operating system of mobile devices  iOS 6.1 version or above / version of Android 4.0 or higher

Support for mobile devices:
Recommended devices based on iOS: iPhone 4s, iPhone 5, iPhone 5s, iPhone 6, iPhone 6 Plus, iPod touch 5 (supported, but not recommended: iPad 3, iPad 4, iPad mini)
Featured Android devices: Samsung Galaxy S3, S4, Note 2, Note 3, or smart phones with similar configuration
Video review of quadrocopter in three parts. Part 1
Video review of quadrocopter in three parts. Part 2
Video review of quadrocopter in three parts. Part 3
Review DJI Phantom 2 Vision
Preparing of the quadrocopter for flight
DJI Phantom 2 Vision - an excellent choice for those who want to buy quadrocopter with the camera at a reasonable price and still have to think about how to collect it, configure and run. It is ideal for those who had never had anything to do with quadrocopters and uses them primarily for entertainment and for shooting amateur video.