Quadcopter IdeaFly Apollo from the Chinese company Idea-Fly can be considered an analogue of the Blade 350 QX and DJI Phantom 1. It costs about the same, but what about its capabilities and characteristics? Let's take a look!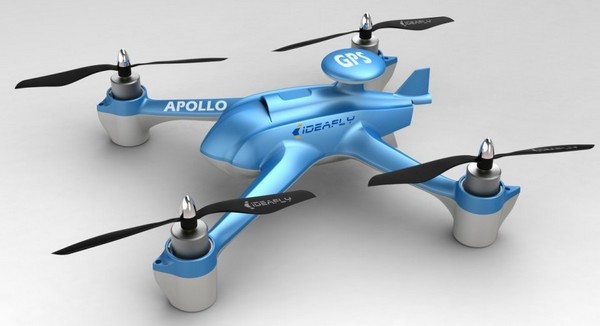 Idea-Fly Apollo comes with 'Ready-to Fly'. This means that by giving 5-6 hundred dollars you get a fully operational quadrocopter, which you do not need to collect and that you do not need anything else to run. If you want to receive video from the camera in real time, then see that the bundled Wi-Fi transmitter and receiver (Wireless Video Transmitter / Receiver).
As you probably already guessed, Apollo is equipped with a GPS module that is capable of working with 6 satellites. This means that, in order to improve the safety of the quadrocopter, it is equipped with a home return and autopilot function, and in order to improve stability there is a special flight mode when the copter moves more smoothly in the air, allowing better images and more stable video output.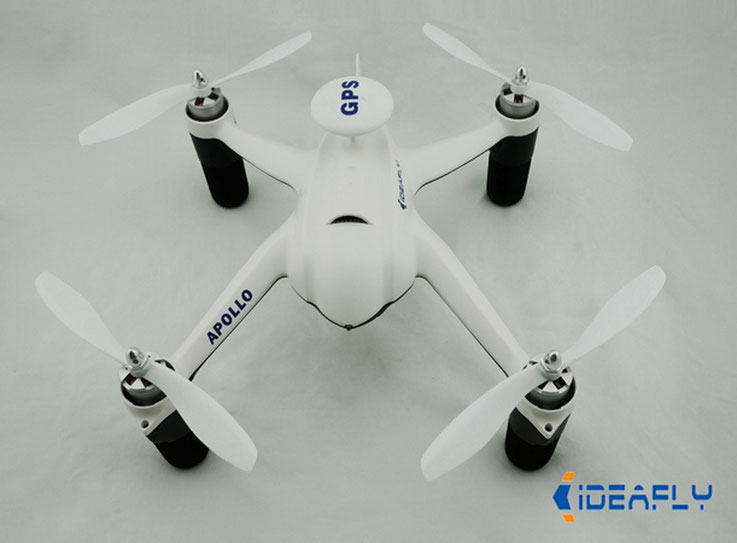 The motors of the Apollo are brushless, equipped with electronic speed controllers to improve the flight characteristics. The propellers are made of carbon fiber, which makes them light and strong at the same time. It is also possible to install protective covers, although in open spaces they are useless and only increase the weight of the copter, reducing the time of its flight.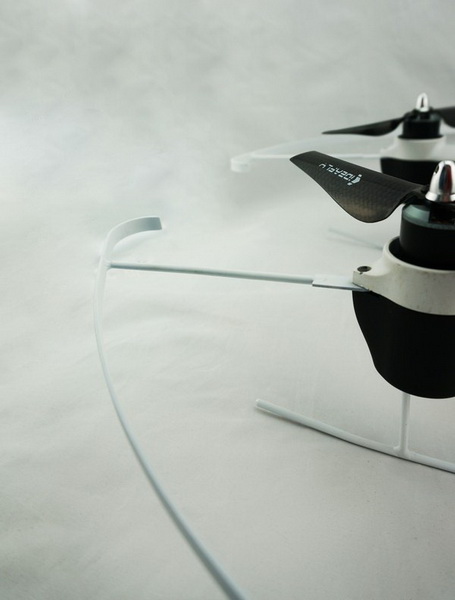 As for the battery, it has a capacity of 2200mAh. Its volume is enough for 10-15 minutes of flight, depending on the congestion of the quadrocopter. The battery is charged for one hour.
The control panel operates at the usual 2.4Ghz frequency, the video is transmitted at a frequency of 5.8Ghz.
Like the Blade 350 QX, the Idea-Fly Apollo is equipped with a 2-axle cardan suspension, which is officially compatible with GoPro cameras, but in fact with its multiple Chinese clones and analogs.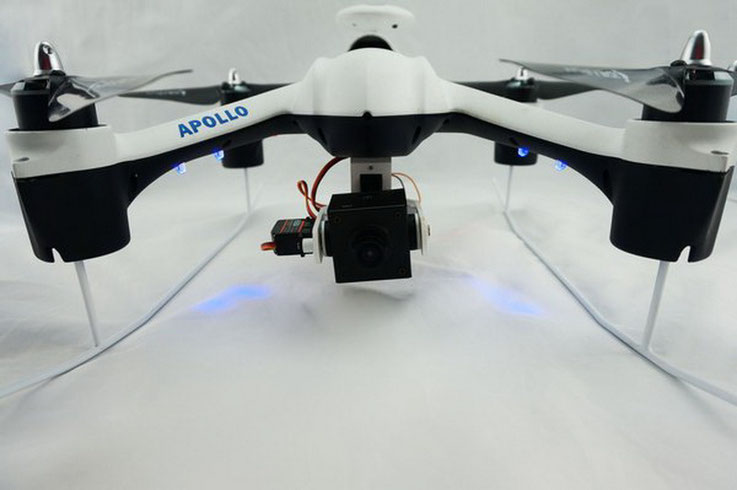 A significant disadvantage of the quadrocopter can be called a short range of control - only 300 meters in open spaces.
Dimensions: 280 x 310 mm
Diagonal size: 350 mm
Operates at a temperature of -10 ° C ~ 50 ° C
Power Consumption: 3.12W
Maximum weight at which to take off: <1200 grams
Flight accuracy (GPS mode): Vertical: 0.8 m; Horizontal: 2.5 m
Maximum angular yaw rate: 300 ° / sec
Maximum angle of inclination: 45 °
Maximum take-off / landing speed: 4 m / s
Maximum flight speed: 5 m / s
Flight time: 10-15 minutes
AC Input Voltage: 100-240V
Charging current: 1A / 2A
Current consumption for compensation: 200mA
Power consumption: 20W
Battery type: lithium polymer
Capacity: 2200mAh
Operating frequency: 2.4GHz ISM
Control Channels: 6
Radius: 300 yd range
Receiver sensitivity (1% PER):> -93dBm
Power consumption: <20dBm
Operating voltage: 80 mA @ 6V
Batteries AA: 8 pieces
IdeaFly Apollo is a worthy analogue of the American Blade 350 QX and Chinese DJI Phantom 1. True, it is more expensive than the first, but it has a longer range of controlled flight, yielding at the same time to the first Phantom (the one has a flight range of 1 km). But he can lift a little more weight than Phantom 1.
If to generalize, then Apollo is something worse, but something better than analogues at the same price. It can not be said that he is better on his head, but he is definitely not worse. Should I take the Idea-Fly Apollo? Yes, if you need a quadrocopter with a camera on the radio, capable of shooting a good video from the air.