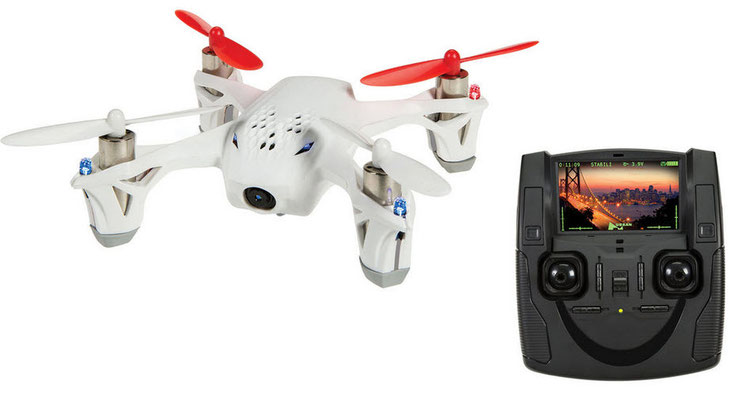 Title: Hubsan X4 H107D FPV Quadcopter
Series: X4
Type: RTF
Price: $ 150
Hubsan X4 H107D - an improved version of quadrocopter Hubsan X4 H107C, which is distinguished by two things: added the ability to watch videos online (hence the prefix to the name of quadrocopter «FPV» has been added) and a large LCD-display, built-in remote control. This is what we discuss below.
As I mentioned above, from the Hubsan X4 H107C the new X4 H107D model differs the ability to view videos online. It is for this task control unit has got a 4.3-inch LCD-display on the video that is transmitted on line at frequency 5.8 Ghz.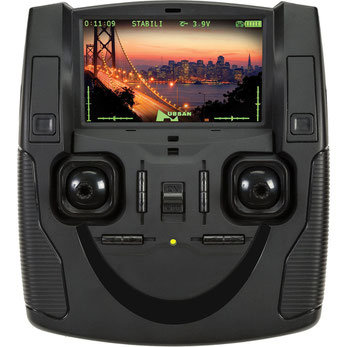 0.3-megapixel camera can transmit video in the online mode, a resolution of 720 x 480 pixels, but the video recording itself takes place in an unusual resolution of 720 x 240. So you have to use a converter to format it to 480 pixels in height, if you want to build recorded video via quadrocopters in some other visuals.
Unfortunately, due to the weak electronics, video, broadcasted online may buggy. And all would do if it was recorded on board quadrocopters, but no. Instead, the video is recorded on a removable card microSD / SDHC memory that is in the control panel, so all glitches in the video, you will see on the monitor panel, then you will be seen in the recorded video.
As for other things (material, charging the battery, the flight duration, etc.), in this regard Hubsan X4 H107D FPV does not differ from Hubsan X4 H107C. Charging the battery are the same for 30-40 minutes, and flight time - the same 6-7 minutes.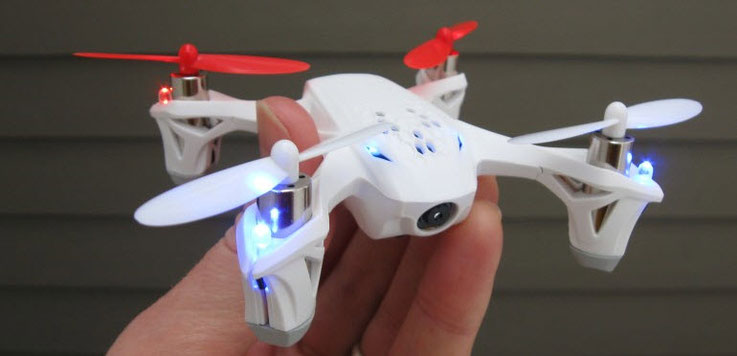 Material: Plastic
Motors: 0820; coreless
Size Diagonal: 11.4 cm
Battery: Lithium Polymer, 3.7V with a capacity of 380mAh
Charging time: 40 minutes
Flight time: 7 minutes
Effective pixels: 0.3 megapixel
Camera resolution: 640h40
Video Resolution online: 720x480
The resolution of the recorded video: 720h240
Audio recording: none
Operating Frequency: 2.4Ghz
The frequency at which video is transmitted: 5.8Ghz
Display: 4.3 inches
Range: 100 m
Maximum height: 90-100 m
Power source: AA Batteries
Hubsan FPV X4 H107D - a good choice if:
you will not use its camera for recording video, but only in order to watch the first person
you do not need the powerful quadrocopters, the ability to keep in the air for 20 minutes and more
it is you will be the first quadrocopter
you want to spend 150 bucks on some toy yourself or your child