DJI Phantom 2 - the third model in the series quadrocopters Phantoms from a Chinese company DJI Innovations. Unlike Phantom FC40, as standard camera there.
Title: DJI Phantom 2
Series: Phantom
quadrocopters Type: RTF
Release date: December 2013
Price: $ 650
Since the Phantom 2 - the direct successor of the first Phantom, the significant differences in the design is not that to be expected. Four propeller attached to the casing 4 side, bottom mounted camera, the battery is located on the rear side.
As for functionality, there is a big difference. For example, it has increased the maximum weight that can lift quadrocopter. If the phantom 1 can fly with only 1 kilogram or less, the phantom 2 may lift into the air an additional 300 grams of weight, and the flight time increased from 15 to 25 minutes.
By means of such here's remote control: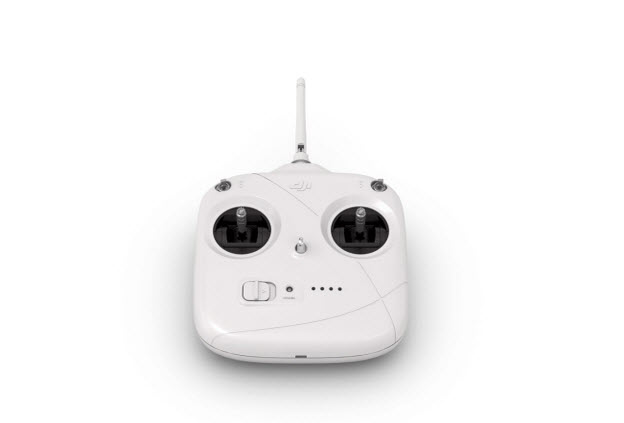 Its range - 1 kilometer (tested in the laboratory, so that in practice you can rely on 800-900 meters), the remote works from 1 rechargeable lithium-polymer battery capacity at 2000mAh.
The controller on the left allows you to control the motorized joint (fixing) for the camera, there is a retention function lever (joystick) movement during the landing quadrocopters, and LED indicators on the front panel indicate the battery level.

Bracing for smartphones or tablets is not provided.
Quadrocopter DJI Phantom 2 is powered by a lithium-polymer battery capacity at 5200mAh. His charge is enough for 25 minutes of flight, which is 10 minutes better than its predecessor - Phantom 1.

On the battery has LEDs that indicate battery level, there is protection from excessive charging or discharging.
The basic bundle includes a quadrocopter, remote control, 8 by itself swirling propeller, battery, charging him and cable to connect to your computer. Cameras, as we have already mentioned, no.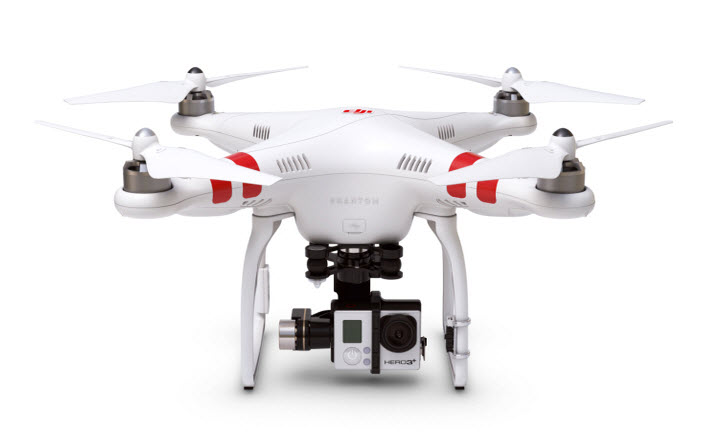 However, the Chinese have provided the needs of customers, and therefore to the Phantom 2 can buy a few accessories that expand its capabilities and significantly facilitate the management and video from the air. These accessories include:
Stabilizer Zenmuse H3-3D camera that can stabilize the image on all three corners. How it works is described on the page with an overview of Phantom 2 Vision Plus, in the "Stabilization and the camera."
Ground Station, which allows you to manage quadrocopters through iOS-gadget or computer, and configure the autopilot quadrocopters by posting 16 points on the virtual map.
DJI Lightbridge - own development company that allows you to broadcast an image with the camera quadrocopters online.
iOSD - system that transmits flight data in real time.
Weight (including battery and propeller): 1030g
Flight Precision Vertical: 0.8 m; Horizontally: 2.5 m
The maximum yaw rate 200 ° / s
The maximum tilt angle: 35 °
Maximum speed at take-off / landing: 6 m / s at takeoff, 2 m / s landing
Maximum flight speed: 15 m / s (not recommended)
diagonal length: 350 mm
The maximum weight at which the fly: ≤1300g
Works at a temperature: -10 ° C ~ 50 ° C
Operating frequency: 2.4GHz ISM
Range (in open space): 1000 m
Receiver Sensitivity (1% PER): -93dBm
Transmitter power: CE: 25mw; FCC: 125mw
Operating voltage: 120 mA@3.7V
Built-in lithium-polymer battery. Operating voltage / capacity: 3.7V, 2000mAh
Type: Li-polymer battery 3S
Volume: 5200mAh, 11.1V
Charging temperature: 0 ℃ to 40 ℃
Discharged at a temperature from -20 ℃ to 50 ℃
The official presentation of quadrocopter
Video review of DJI Phantom 2
Demonstration iPad Ground System
DJI Phantom 2 - a good option for those who already have a camera, but there is no quadrocopter. In this case, you will have a minimum set for the video from the air.

If you have no camera, you recommend taking DJI Phantom 2 we will not, except in cases when you can afford to spend the extra $ 600-700 for the accessories. If your budget is limited to $ 1,000, it is better to take the Vision Phantom 2, in which the camera is pre-installed and included are all the necessary accessories.