Align M470 - quadrocopter, released in late 2014 by Align. What is interesting this quadrocopter - see below.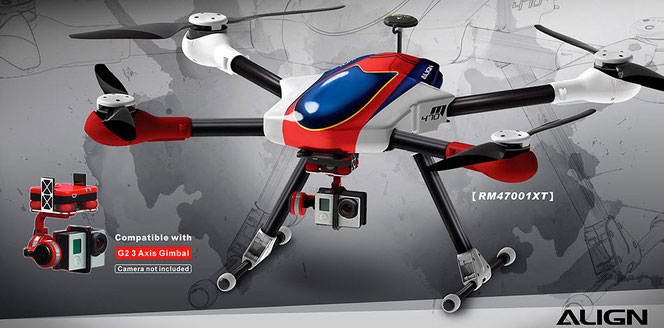 Title: Align M470 Multicopter
quadrocopters Type: ARF Kit (frame + flight controller + cardan suspension)
Price: about $ 1,000 +/- $ 200
Release date: December 2014
M470, unlike the M424 - not just quadrocopter on the radio, and a flying platform for CoPro camera that allows you to capture video from the air. Of course, in size copter substantially outperforms its predecessor - it is in diameter 710 mm, height - 266 mm. Weight without batteries is around 2500 grams - twice more than the famous DJI Phantom 2 Vision +!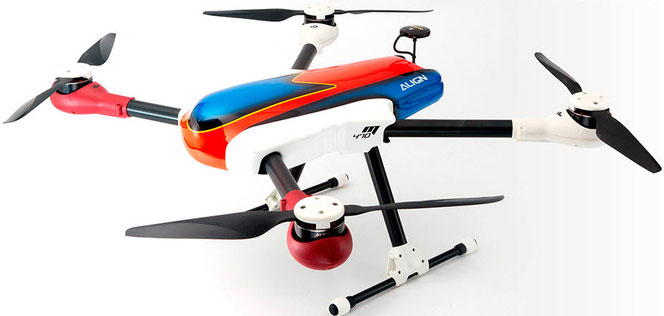 This design was chosen: streamlined body increases the resistance of the wind, and he was fairly easy to disassemble.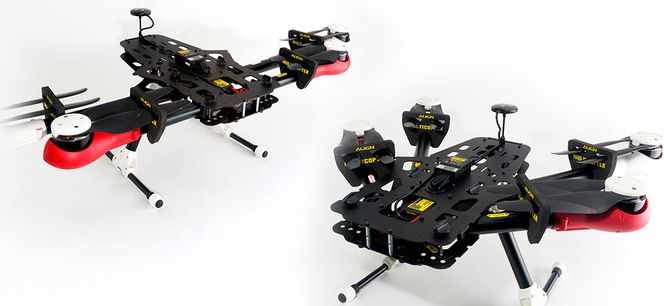 Complete with quadrocopters is 3-axis gimbal suspension G2, designed specifically for GoPro cameras. Supported suspension tuning via a PC, there is also the possibility to connect it to the Android or iOS device via Bluetooth. The camera itself is not complete, it will need to be purchased separately.
On the Align 470 uses commutatorless motors BL4213 370KV. This high-performance engines that not much heat and can hold quadrocopter in the air about 20 minutes (without a full load) with battery at 5200mAh (in the kit is not). Fittings for motors are made of durable carbon fiber. Interestingly, the sale is mounting propellers and a completely different colors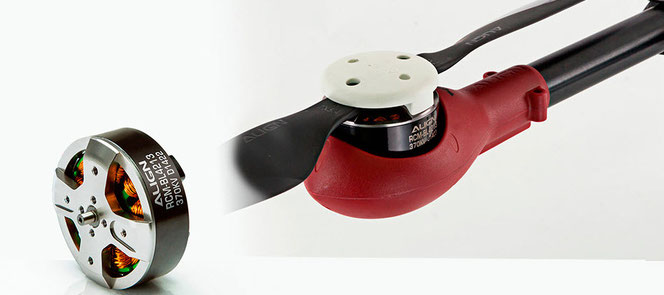 The fixtures are also placed electronic regulators 40A speed. Next to them are the bright LED-lights whose color (red and white), you can choose your own.
The flight controller is set quadrocopters - APS-M, which also works with the hexa-copter and Octo-copter. Among the modes: 2 kinds of GPS, altitude hold, manual and automatic. There are also automatic return home in the event of malfunctions or low battery, supports telemetry functions controlled suspension and the concentration on a particular point.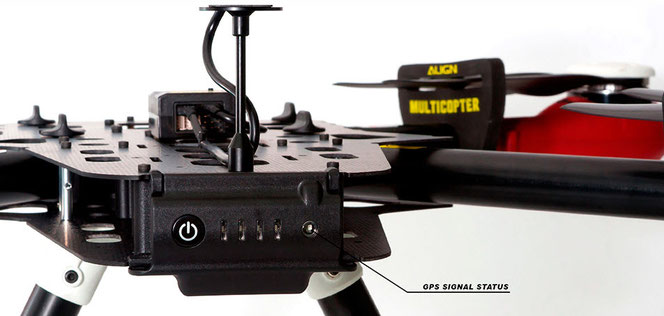 As for the battery, and the remote control, then they must be purchased separately. Supports up to 12000mAh batteries, also have the option to install 2 batteries at 6000mAh. The remote control must be equipped with at least 7 channels.
It is also supported by the first-person camera, but this (as well as for telemetry operation) need to purchase a separate transmitter.
Frame Diameter: 710 mm
propellers Length: 179 mm
Height: 266 mm
Weight without battery: about 2500 g
Supported batteries: 5200-12000mAh
Flight Time: 11-13 minutes to the battery at 5200mAh
Flight controller: APS-M
Accuracy flight
Vertical: ± 1 m
Horizontally ± 1 m
Max. flight speed
Vertical: 6 m / s
Horizontally 15 m / s
Max. Height: 700 m
Max. rotation angle: 30 degrees
Input controller voltage: DC4.5V ~ 8.4V
controller Current consumption: <250mA @ 4.8V
Working controller Frequency: 400Hz
Working Temperature: -20 ° ~ 65 ° C
Power Management Unit:
Input voltage: 13.2V ~ 25.2V (4S ~ 6S)
Operating frequency: 500KHz
Dimensions: 62x35x26 mm
Model BL4213 370KV
Input voltage DC 22.2V
Max. DC 25A
Max. 550W rated power
Quantity of the magnetic poles 14
Number of stator 12 mounts
Dimensions / weight F4xF52 × 33 mm / 185 g
Electronic speed controllers
Input Voltage 13.2V ~ 25.2V (4S ~ 6S)
Max. DC 40A
Dimensions mm 74.2x27x12.7
Model: G2
Input voltage: DC 12V (3S)
Current consumption: <500mA
Max. control range
Pan: 340 °
Torsion: ± 20 °
Tilt: 120 °
Max. range of circular rotation
Pan: 60 ° / second
Torsion: 60 ° / second
Inclination: 60 ° / sec
Temperature range: -20 ~ 80 ° C
Output voltage: 5V / 0.3A
Dimensions / Weight: 100.4x74x111.5 mm / 200 g
Test flight quadrocopters Align M470
In general, Align M470 turned out high-quality and not expensive. During 1000-1200 dollars you get a powerful modern quadrocopter that flies high and far from stable and is an excellent platform for flying or any other GoPro Action Camera.
Plus it can be easily disassembled, which makes it possible to modify and customize it to your taste. And, of course, it is impossible not to note the support of capacitive battery up to 12000mAh, which can significantly increase the copter flight, so - and uptime shemki air!