DJI Inspire 1 - quadrocopter of a completely new series of unmanned aerial vehicles from the Chinese company DJI Innovations - a recognized leader in the field of civil multicopter. In December 2014 started the pre-order the first-born of a new series quadrocopters, and the first consignment of steel post in early January 2015.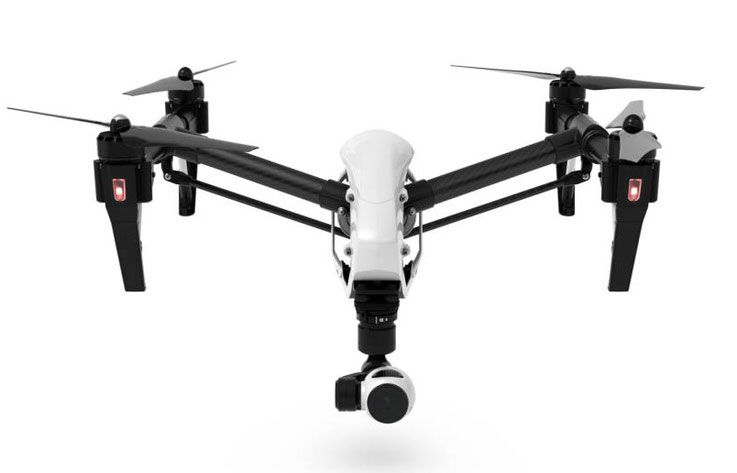 Title: DJI Inspire 1
Series: Inspire
quadrocopters Type: RTF
Release date: January 2015
Price: $ 3000-5000
The creators decided to Inspire 1 deviate from the fixed rigid design in favor of compactness and practicality. Now, during the flight quadrocopters supports can rise up and block the overview camera.
Inspire frame 1 is made of carbon fiber, and it is attached to the housing by means of two straps. Two strips arranged perpendicular to the body, keep the propeller, causing the appearance of quadrocopters remotely resembles the letter "H".
This innovative design solves the problem when quadrocopters supports are seen at the edges of the screen during shooting from the air and turning the camera. In the promo video below shows how to lift up the supports quadrocopters (seconds 00:28 - 00:30):
Housing DJI Inspire 1 is also different from what we've seen before: it is a narrow, elongated upwards and elongated. It seems that this design is dictated by the need to accommodate a large battery capacity of 4500mAh.
The middle and front part of the casing containing all the necessary mechanisms for rotating and quadrocopters chamber, as well as electronics that transmits a video signal. The rear body compartment fully placed under the battery.
One feature of Inspire 1 - camera which is located under the body on a motorized hinge (suspension) that rotates 360 degrees. Not many can boast quadrocopters camera that shoots in 4K resolution full frame. And this, for a second, a resolution of 3840 x 2160 pixels! Vertical Frequency customizable: you can choose 24, 25 or 30 frames per second. You can also shoot in resolution Full HD (1080p) or HD (720p); In this case, a second frame rate can be increased to 48, 50 or 60.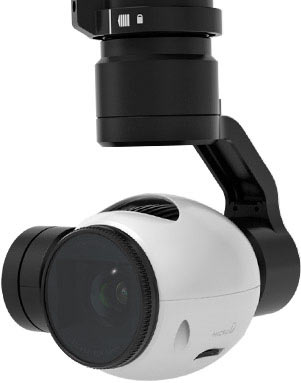 The camera has a 12-megapixel CMOS-sensor from Sony, its lens is made of 9 elements in 9 groups (aperture f / 2.8), it is equipped with a corrector lens distortion and UV-filter, and the viewing angle is 94 degrees. ISO sensitivity range - from 100 to 3200. The video bitrate is 60 Mbit / s, and the recording is made on the card up to 64 GB.
In addition to video, using Inspire 1 can take photos at a resolution of 4000 x 3000 pixels.
In the Inspire DJI 1 preset lithium-polymer battery capacity of 4500mAh, but DJI also sell more batteries capacitive volume of 5700mAh. It charges the battery for an hour, and it is enough for 18 minutes of flight. On the one hand, it is less than that of the Phantom 2 Vision + and, in general, 18 minutes - it is really small if you want to capture high-quality material. On the other hand, given the possibility of quadrocopters and his camera, 18 minutes - quite a good time to spare.
In quadrocopters preinstalled so-called "smart battery". This means that on the screen, you will receive all the information about how long the flight is still enough battery and how long it will take a flight back, which is very convenient. Also, you can see the voltage of each battery cell, the total number of charges and discharges, and battery status.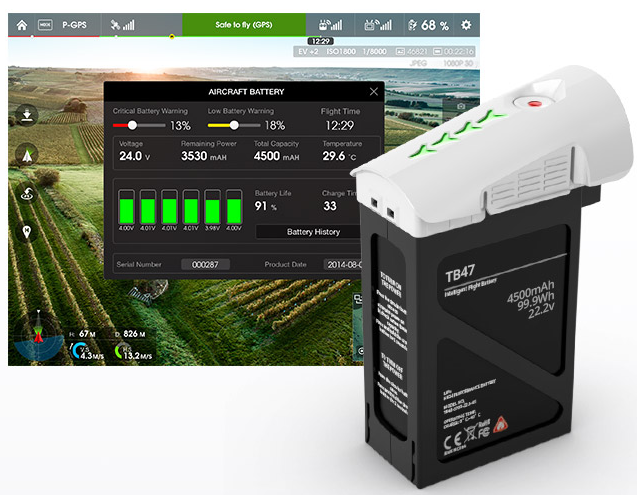 By default, DJI Inspire 1 comes with 1 remote control, but the buyers have the opportunity to buy directly quadrocopter with two remote controls or buy extra later. In this case, a single operator will be responsible for quadrocopters management, and the second - for the camera turns.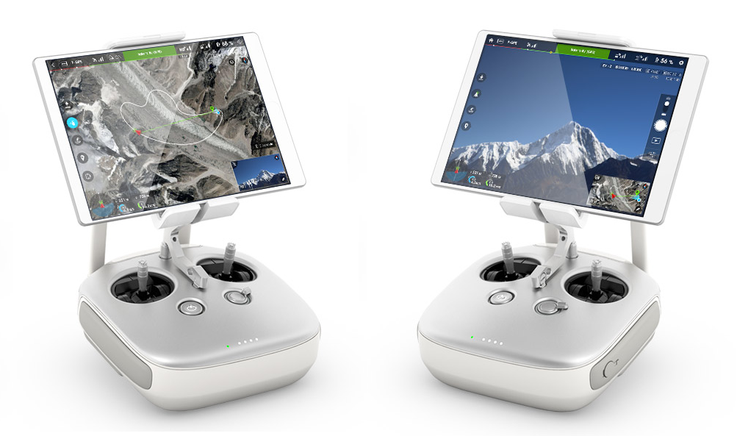 The remote is equipped with a universal holder for tablets or smartphones, which can broadcast captured video 720p format (but not 4K) in real time thanks to technology Lightbridge. Connect your smartphone or tablet to the keyboard can be via USB or mini-HDMI. The video signal can be transmitted from a distance of as much as 2 km!
Of course, DJI Inspire 1, there is a special application for smartphones and tablets on Android, iOS, which allows you to configure the camera, control, look at the map of the flight and its route and get all the information in real-time flight. A take-off and landing can be controlled only 2 clicks.
Model: T600
Weight (including battery): 2935 g
The accuracy of the flight (in GPS mode)
Vertical: 0.5 m;
Horizontally: 2.5 m
The maximum speed of rotation
Pitch: 300 ° / second
Yaw: 150 ° / second
The maximum tilt angle: 35 °
Maximum speed at take-off: 5 m / s
Maximum landing speed of 4 m / sec
Maximum speed: 22 m / s (mode ATTI, without wind)
Maximum altitude: 4,500 meters
The maximum wind speed that can be ignored: 10 m / s
The maximum flight time: About 18 minutes
Motor Model: DJI 3510
Propeller Model: DJI 1345
Flying in an enclosed space: Enabled by default
Temperature range: -10 ° to 40 ° C
Size diagonally: from 559 to 581 mm
Dimensions: 438x451x301 mm
Model: ZENMUSE X3
The generated power (with the camera)
In statics: 9 W
On the move: 11 W
operating voltage
The static: 750 mA
In motion: 900 mA
The angular oscillation: ± 0.03 °
Mounting: disconnect
control range
Pitch: -90 ° to + 30 °
Rotation: ± 320 °
Mechanical range
Pitch: -125 ° to + 45 °
Rotation: ± 330 °
The maximum rotation speed
Pitch: 120 ° / second
Rotation: 180 ° / sec
Name: X3
Model: FC350
Total pixels: 12.76M
Effective pixels: 12.4M
Image Resolution: 4000 × 3000
ISO range: 100 ~ 3200
Viewing angle: 94 °
Model: CMOS-sensor Exmor the Sony 1 / 2.3 "
Lens:
f / 2.8 (20 mm equivalent)
9 elements in 9 groups
aspherical lens
Correction of optical distortion
UV-filter
Picture Modes:
Single shot
Continuous shooting
Taymlaps
HD-format video recording:
UHD (4K): 4096x2160p (24/25 fps), 3840x2160p (24/25/30 fps)
Full HD: 1920x1080p (24/25/30/48/50/60 frames per second)
HD: 1280x720p (24/25/30/48/50/60 frames per second)
The maximum video bit rate: 60 Mbit / s
Supported file formats
Photo: JPEG, DNG
Video: MP4 / MOV (MPEG-4 AVC / H.264)
FAT32 or exFAT file system (FAT64)
Supported memory cards:
SD / SDHC / SDXC Micro SD
Maximum capacity: 64 GB. Speed: Class 10 or above
Fluid temperature: from 0 ° to 40 ° C
Name: C1
Operating frequency:
922.7 ~ 927.7 MHz (Japan only)
5.728 ~ 5.850 GHz
2.400 ~ 2.483 GHz
Transmission range (open space): 2 km
EIRP 10dBm @ 900m, 13dBm @ 5.8G, 20dBm @ 2.4G
Video: USB, mini-HDMI
Power Source: Built-in battery
Charge: DJI Charger
Supports two users: Connection 'Host-and-Slave'
Mounting: for tablet or smartphone
The maximum width of the mobile device: 170 mm
Generated Power: 9 W
Temperature range: -10 ° to 40 ° C
Temperature, which can be stored for the remote
Less than 3 months: from -20 ° to 45 ° C
More than three months from 22 ° to 28 ° C
Ambient temperature, where control can be charged from 0 to 40 ° C
Battery: Lithium-polymer battery 2S 6000 mAh capacity in
Model: A14-100P1A
Voltage: 26.3 V
Rated power: 100 W
Name: Intelligent Flight Battery
Model: TB47
Capacity: 4500 mAh
Voltage: 22.2 V
Battery type: high-voltage lithium-polymer battery 6S
Power consumption: 99.9 kW / h
Weight: 570g
Temperature range: -10 ° to 40 ° C
Temperature where the battery can be stored
Less than 3 months: from -20 ° to 45 ° C
More than three months from 22 ° to 28 ° C
The temperature of the environment where the battery can be charged from 0 to 40 ° C
Maximum power consumption for charging: 180 W
Name Intelligent Flight Battery
Model TB48
Capacity 5700 mAh
Voltage 22.8 V
Battery type Lithium-polymer battery 6S
Power 129.96 kW / h
Weight 670 g
Fluid temperature from -10 ° to 40 ° C
Temperature where the battery can be stored
Less than 3 months: from -20 ° to 45 ° C
More than three months from 22 ° to 28 ° C
Ambient temperature where the battery can be charged from 0 to 40 ° C
The maximum power consumption of 180 W to recharge
«Vision Positioning» System
Speed range of less than 8 m / s (2 m above the ground)
height range 5-500 cm
Operating Conditions bright surface (lux> 15)
Range 0-250 cm
Operating system requirements of mobile devices:
version iOS 7.1 or higher
version of Android 4.1.2 or higher
Support for mobile devices:
iPhone 6 Plus, iPhone 6, iPhone 5S, iPad Air 2, iPad 3, the Mini, iPad Air, iPad Mini 2, iPad 4
Samsung Note 4, Samsung Note 3, Samsung S5, Sony Z3
It is recommended to use the tablet for easy management
Presentation quadrocopters DJI Inspire 1
Unpacking and preparation for flight
A detailed video review DJI Inspire 1 in English
Quadrocopters DJI Inspire 1 against geksakoptera DJI S900
DJI Inspire 1 - a quadrocopter for professionals. And not only because of its price (for comparison, DJI Phantom 2 Vision Plus is worth about $ 1,300), but because of the functional characteristics. The powerful camera that can shoot in 4K and motorized joint format that can rotate it 360 degrees on its axis allows to obtain the video is very high quality. At this point, I feel like saying: "Tremble, Hollywood, fans quadrocopters ready to compete with you for the title of the best camera work!"