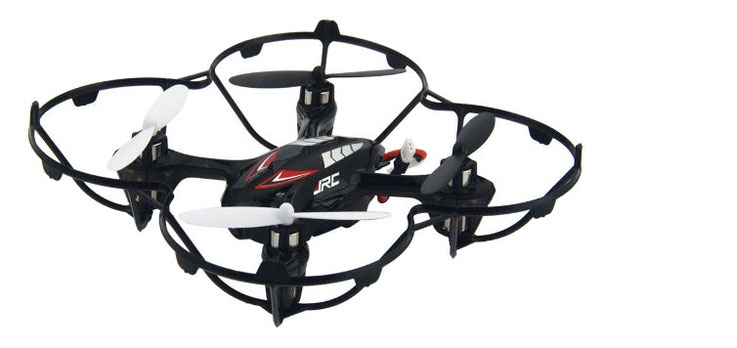 Title: JJRC H6C 2.4G 4CH Headless Mode Quadcopter with 2MP Camera
quadrocopters Type: RTF
Price: about $ 40
Release date: November 2014
JJRC H6C - a new model on the market micro quadrocopter from a Chinese company JJRC, that appeared after the copter H5C  and  H8C. About its features, read below.
Externally H6C looks like the most typical quadrocopter, only it is much smaller in size: while wearing protective covers propellers for its length and the width is 134 mm, and without them even less. Weight of quadrocopter also minimal: 37 grams weighs himself drone, 10 grams - Battery and 3 grams taken shrouds itself. Total is obtained 50 grams
Single-cell battery that comes, has a capacity of 350mAh and is charged about 60 minutes. With a full charge it can hold quadrocopter in the air about 7-8 minutes, which is quite a good result for this class copter.
Since the battery is easily connected and disconnected, it can be replaced by a capacitive battery - for example, at 3.7V 600mAh, which weighs 16 grams. It is recommended to remove the protective covers - still 6 more grams for a baby - a significant weight.
The big plus is quadrocopters built-in camera that has the «HD» prefix. Of course, although the camera can shoot video at a resolution of 1280x720 pixels (included microSD card also goes to 2 gigabytes), but no HD here and there is no trace. However, hardly anyone had hoped for more.
Examples of video recorded on the built-in camera H6C see below, here we note that its quality is comparable to the quality of video that is produced in the chamber 808 Mini Camera, which is all the same :) $ 40, and the viewing angle in the region of 90 degrees.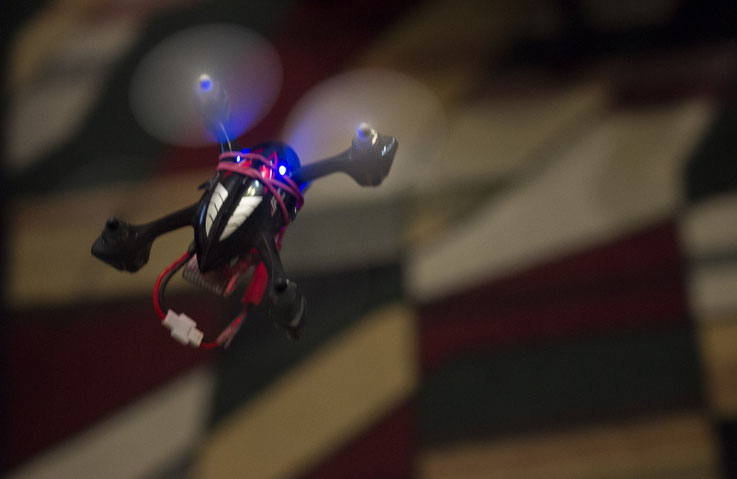 Despite its small size, quadrocopter very stable in flight and its design is very strong: there were occasions when he swung and crashed it into a wall, the elements of the environment such as a tree, and he though henna :) But best of these crash tests not to carry out, once at the time did not have to and you may not be lucky banal.
The remote control bundled offers 4 control channel operates at a standard frequency of 2.4Ghz and looks like this:
In his hands he sits comfortably and appearance strongly resembles a gamepad. So the owners of consoles he definitely will like.
Dimensions (with protective casings): 135 x 135 x 35 mm
Power Supply: Li-Polymer battery 3.4V 370mAh
Flying time: about 8 minutes
Charging time: 50-60 minutes
Range: 50 m
Operating Frequency: 2.4Ghz
Number of Channels: 4
Power supply: 1.5V AA batteries
Number of megapixels: 2 MP
Video Resolution: 1280x720
The pros of quadrocopter: (same Hubsan X4 with the camera costs about 60-70 dollars), the ability to shoot video on the built-in camera, excellent flips (reversals) and rugged. Serious disadvantages were not found, so if you are looking for an inexpensive quadrocopter with the camera for fun - this is one of the cheapest and the best one to date.