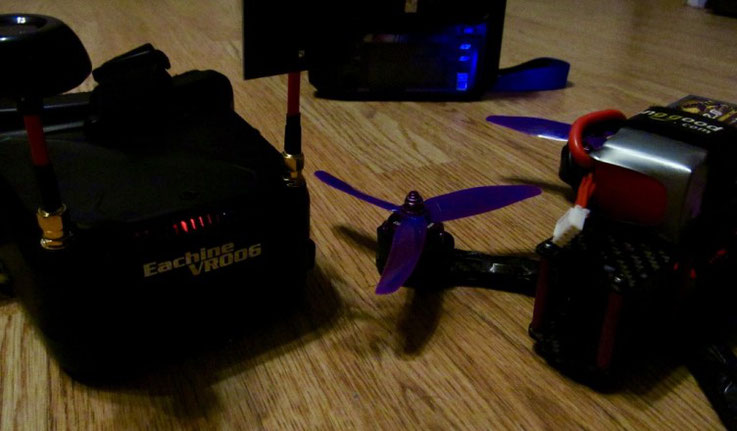 Eachine repeatedly produces more and more deserving attention products. It seems that not so long ago we admired the budget helmet VR007 - especially its compactness and low price - and now it was replaced by a new model that has become not only better in absolutely all parameters, but even more affordable.
 Eachine VR006 is an ultra-compact FPV helmet that will suit both beginners for budgetary entry in a hobby and experienced pilots as a "reserve" and in case you need to ride on your drones of passengers.
Eachine VR006 occupies the most budgetary niche - its price is less than forty dollars - so we will compare it with the previous king of cheap helmets, Eachine VR007.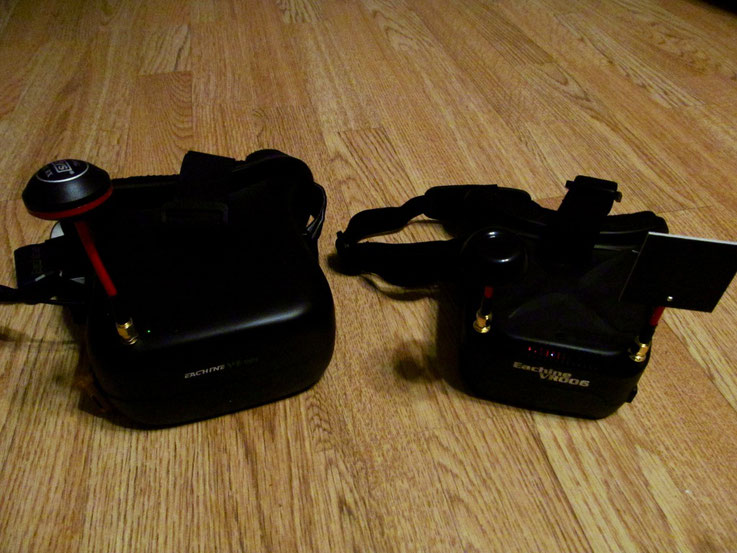 So, the first thing that catches your eye is the size of the novelty. VR006 is really very small! It is less than its predecessor in almost a half times, and also much easier. Thus, it is even easier to carry with him, on his head, too, is almost not felt.
The next important feature of Eachine VR006, which you already probably noticed is the presence of two receiving antennas. Of course, there is no need to wait for a full-fledged variety - only one receiver is built into the helmet, not two, as in more expensive glasses - however, each program developed by Eachine can automatically select the antenna receiving the strongest signal and switch to it. As a result, the quality of the reception of the image from your dron is significantly increased.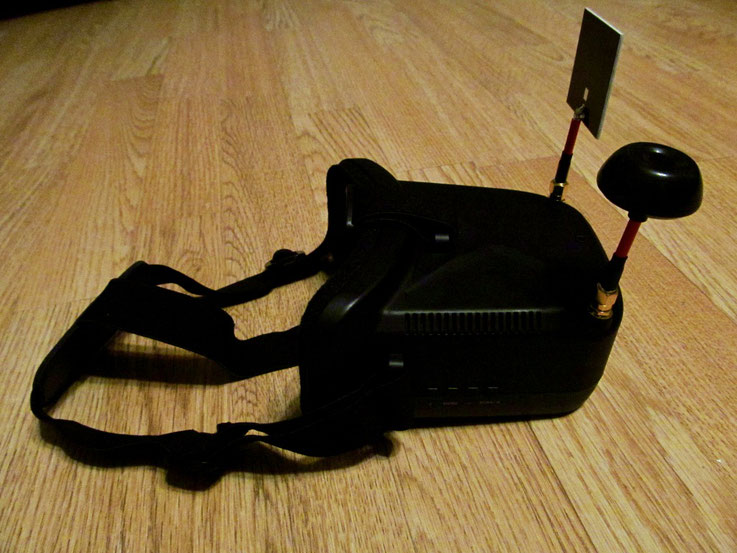 Now let's talk about the most important: built-in monitor. It has a resolution, only slightly more than that of Eachine VR007 - 500x300 pixels (vs. 480 × 282). Nevertheless, the density of pixels in the novelty is much greater because of the diagonal of the monitor that is smaller by one and a half times. In addition, Eachine VR006 monitor has a much better contrast and color rendition compared to Eachine VR007. The image size is noticeably smaller than that of larger helmets, and is close to that in FPV glasses (for example, Fatshark). Honestly, having tried the first time to fly with Eachine VR006, we wanted to immediately throw out the old man VR007 :)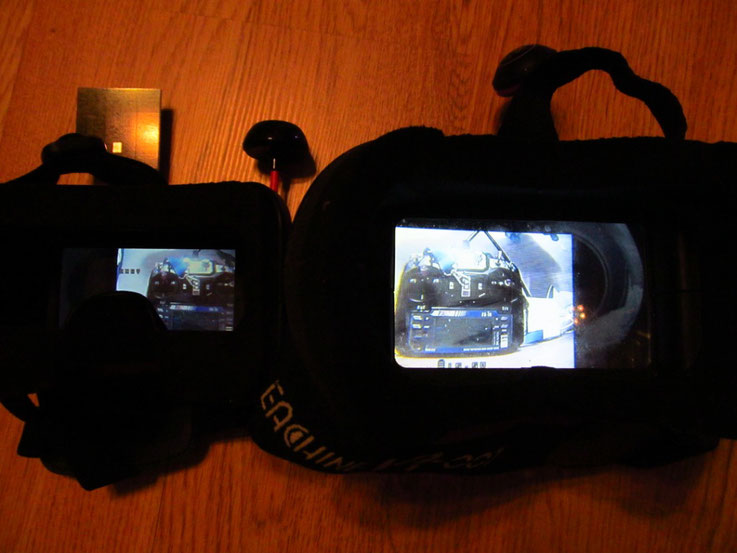 The design of the helmet has also undergone changes and now has a convenient recess for the nose. Despite its ultra-compact size, it sits very comfortably on the head and does not cause any inconvenience. Each Each VR006 also has special ventilation holes - now the screen will not fog, and you will not feel like in a bath.
At this, eachine engineers did not stop. They added a 3.5 mm video input connector: with it, you can connect the helmet to an external device, this requires only the corresponding adapter! The monitor of a novelty has received OSD thanks to which you can see the chosen channel and charge level of the accumulator - it is very convenient! By the way about the battery: now he does not hang out somewhere in front of your ear (hello, VR007!), But is right inside the helmet. Nothing extra! To turn on / off the helmet, just press the special button. And to charge the battery simply insert the micro-USB cable into the connector on the left side of the helmet. By the way, Eachine VR006 can work and simultaneously be charged from an external battery - power bank.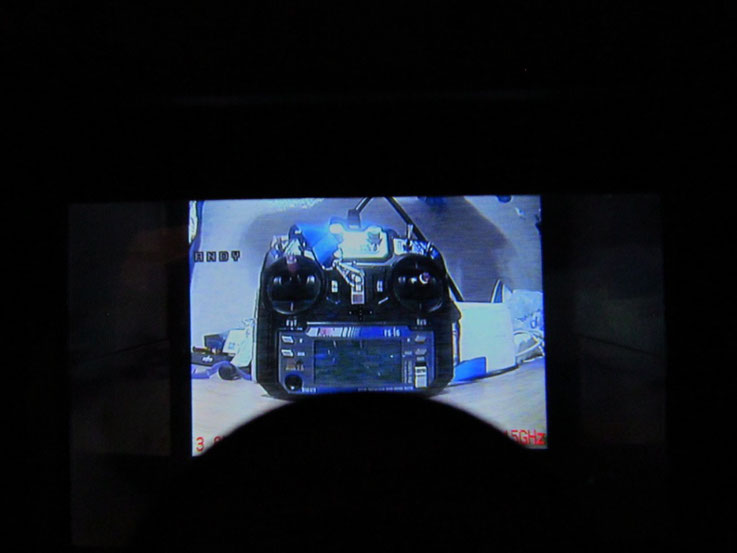 Impressed? Perhaps, it remains only to "finish off" you at the cost of this remarkable compact FPV-helmet. So, Eachine VR006 costs less than $ 40! A year ago it was difficult to find a model comparable in characteristics even for a hundred American presidents.
Traditionally, we finish our review listing the shortcomings of VR006 - where without them? Fortunately, there are not so many of them. Unchanged focal length - if you suffer from farsightedness and can not focus your eyesight on close objects, chances are this helmet will not work for you. The lack of DVR (the ability to record video) - is solved by the purchase of a special device, after which it is enough only to open the helmet and solder three wires.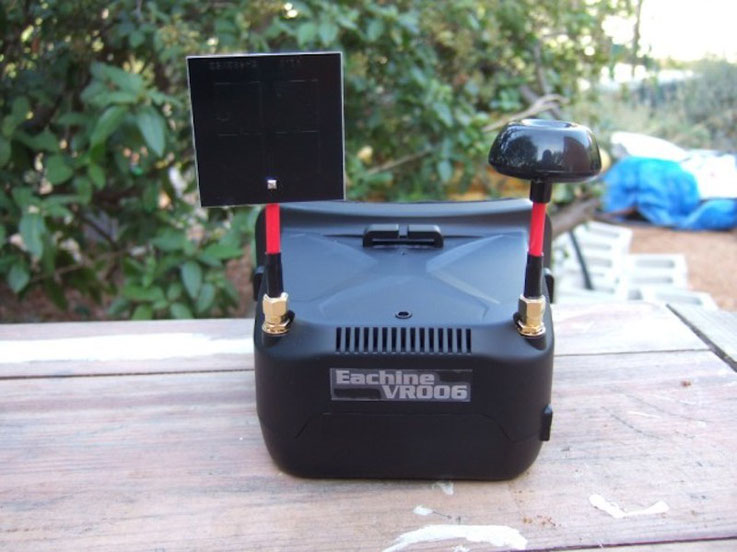 So, who will suit Eachine VR006? First of all beginners who want to enter the hobby as budgetarily as possible. At the same time, this helmet will be a successful acquisition for any pilot of the drone, thanks to its compact size, good technical characteristics and low price. It can be used as a spare helmet (in case your battery is exhausted in the main glasses), as an option "for giving", as a device for "passengers" (ride a girl, friends, parents, random passers-by ...). Our verdict: we must take it!