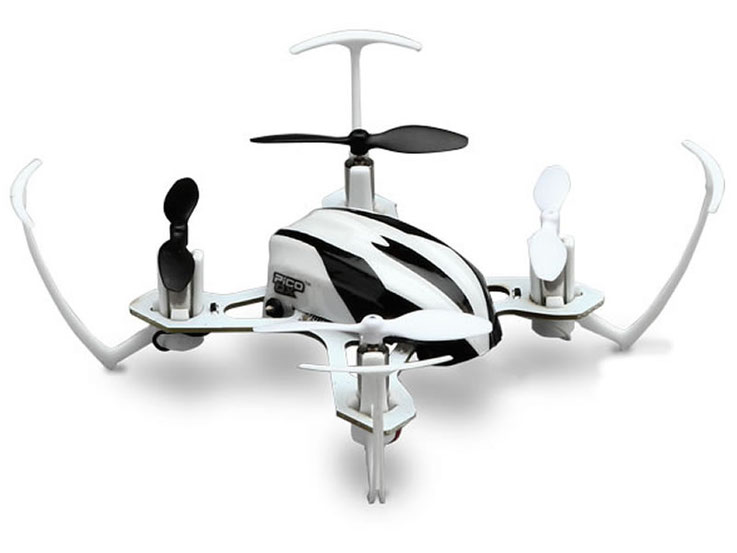 Title: Blade Pico QX RTF
Price: about $ 50
quadrocopters Type: RTF
Released: 2014
In the autumn of 2014 nano quadrocopters market replenished with a new model: the American company Blade released its new development - Pico QX. What came of it - see below.
Quadrocopters Blade Pico QX is typical for its class copter, although it has some special features. It looks pretty standard, and someone may even recall his appearance about Estes Proto-X, but filling it differs from its analogues.
In the first place worth noting that the Blade quadrocopter implemented in the so-called SAFE technology that is intended to be responsible for the stability of the copter flight. It consists of two components: direct gyro and automatic leveling system copter in the air, so to manage them - a real pleasure.
Like the other models in this class copter (same V646 or V676), Pico QX is equipped with LED backlight and can do flips in the air.
A feature of this quadrocopters is its weight: he is one of the easiest nano-copter - it weighs only 8 grams, although the length of it as much as 92 mm. It twice Proto-X, but it is easier to 3.5 grams. Significant weight in the nano world :)
Pico QX is equipped with a removable battery that is charged from a conventional USB (comes). A good bonus is also the fact that the remote control that looks and functionality does not differ much from the remote control to other nano quadrocopters also charged from the usual USB, so you do not have to spend money on batteries.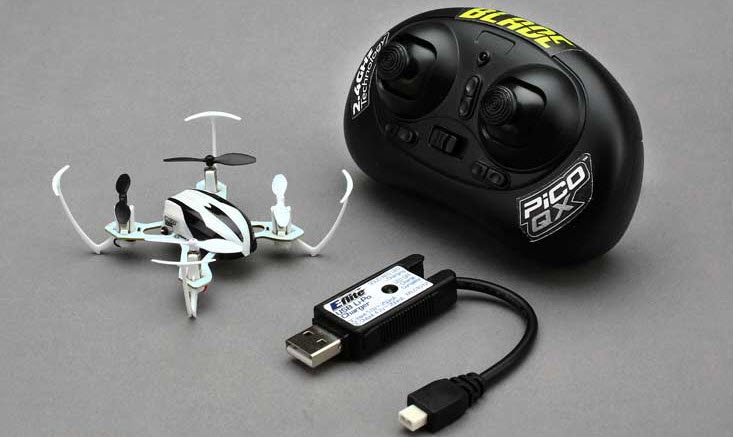 Dimensions: 92 x 92 mm
The diameter of the propeller 50 mm
Dimensions of motors: 5 mm
propellers Length: 30 mm
Weight: 8 g
Flying time: about 5-7 minutes
The operating frequency of the remote control: 2.4Ghz
Video Review and the flight of quadrocopter Blade Pico QX
Unpacking, Setup and tips from HorizonHobby
Compare Blade Pico QX with Estes Proto-X
Flight nano-copter on the street
Unpacking and first flight of the Pico QX
Quadrocopters Blade Pico QX made on conscience and good flying, but its price may scare many. Still, there are much cheaper options nano quadrocopters: the same Cheerson CX-10 is 3 times less. However, if you like to experiment with quadrocopters and price for you is largely irrelevant - boldly take Pico QX, purchase you will not regret it.