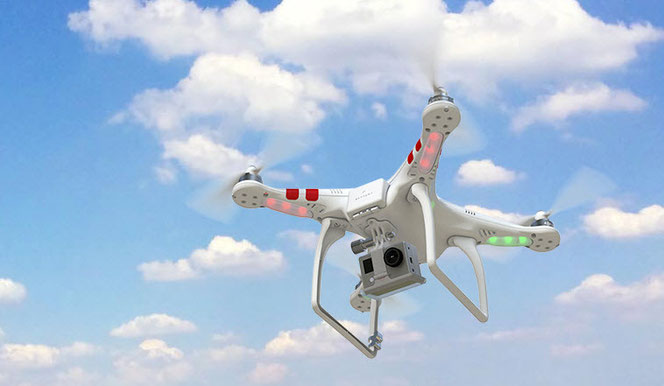 Title: DJI Phantom 1
Series: Phantom
quadrocopters Type: RTF
Release date: January 2013
Price: $ 500
Quadrocopters Phantom 1, from the Chinese company DJI Innovations, released in January 2013 and established the "dynasty" Phantom quadrocopters that now includes five models. The most memorable is the first model in this series - see below.
Phantom 1 is compact and highly integrated, it is easy to fit in a conventional backpack. The streamlined design brilliantly reflects the aesthetics of industrial design.
The main feature of quadrocopters DJI Phantom 1 is that it is completely ready to fly - it is not necessary to assemble or adjust. After unpacking the box, almost immediately, you can take off - you need only attach propellers to charge the battery, insert the transmitter and quadrocopter ready to fly!
Under each branch, on which are mounted on top of the propellers are highly sensitive LEDs to help you navigate during flight.
Under the body of quadrocopters is mounting for the camera (not going), which can be removed if you are planning to fly without a camera and set if you plan to do video recording from the air. Fixing focused on GoPro cameras, installing cameras from other manufacturers - at your own risk.
Phantom 1 is equipped with a lithium-polymer battery with a capacity of 2200mAh and a weight of 170 grams. It can provide 10 to 15 minutes of flight, depending on the conditions and the ambient temperature.
Even 15 minutes - quite small, so it is better to acquire an additional battery. Fortunately, for the first Phantom fits very wide range of different batteries.
Quadrocopters controlled by a remote control. The radius of its action - 1000 meters. The remote control is pre-installed two quadrocopters regime, including the possibility of holding a position in the air.
DJI Phantom 1 is equipped with an autopilot Naza-M. This means that if the control panel loses communication with the transmitter on quadrocopters, the drone will return to the starting point and the flight to land on their own.
By remote control cons include the source of his power - namely, 4 AA batteries. Rechargeable lithium-polymer battery would have been much better.
Diagonal size: 350 mm
Works at a temperature: -10 ° C ~ 50 ° C
Power Consumption: 3.12W
The maximum weight at which the fly: <1000 g
Flight Accuracy (GPS mode): Vertical: 0.8 m; Horizontally: 2.5 m
The maximum yaw rate 200 ° / sec
The maximum tilt angle: 45 °
Maximum speed at take-off / landing: 6 m / s
Maximum flight speed of 10 m / s
AC input voltage: 100-240V
Charging current: 1A / 2A / 3A
Current consumption for compensation: 200mA
Power: 20W
Battery Type: Li-Polymer
Capacity: 2200mAh
Operating frequency: 2.4GHz ISM
Control channels: 7
Range: 1000 m
Receiver Sensitivity (1% PER):> -100dBm
Power consumption: <20dBm
Operating voltage: 52 mA @ 6V
Batteries: AA 4 pcs
How to install the stabilizer Zenmuse H3-2D camera on the Phantom 1
Video review of quadrocopters 
Unpacking, assembly and testing quadrocopters DJI Phantom 1
Phantom 1 was good for its time, but at the moment it is already outdated. A small flight time, slow speed and lack of camera makes it not only outdated, but also unprofitable. For an additional $ 200-300 can take the Vision Phantom 2, which not only carries on board camera, but also technically superior to the first phantom.