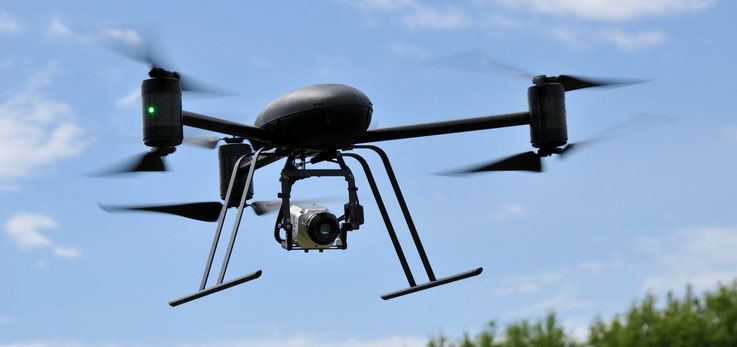 Title: Draganflyer X6
quadrocopters Type: RTF
Price: from $ 8000 and above
Draganflyer X6 - Professional hexakopter from the Canadian company Draganfly, valued at almost $ 10 thousand! What can you expect when buying this edifice - see below.
Hexakopter Draganflyer X6 comes as RTF equipment. This means that you do not have to buy any additional modules or accessories - everything comes with a copter.

It comes hexakopter here in this metal case: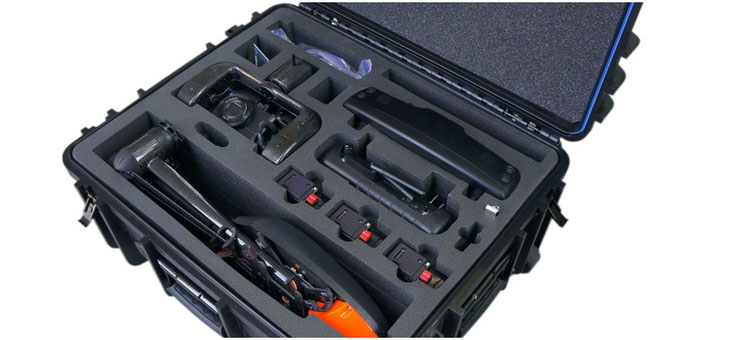 It contains all the details, namely:
Frame quadrocopters
landing gear
6 brushless motors
6 propellers
2 lithium-polymer battery capacity of 2700mAh
The charger for the battery, balancer and power supply
Remote control with touch OLED-screen control
The ground station for video and a receiver that can receive video from a camera online
Camera Sony QX100
A pair of spare propellers
A small pouch for storage of the battery and charger to it
Manual and logbook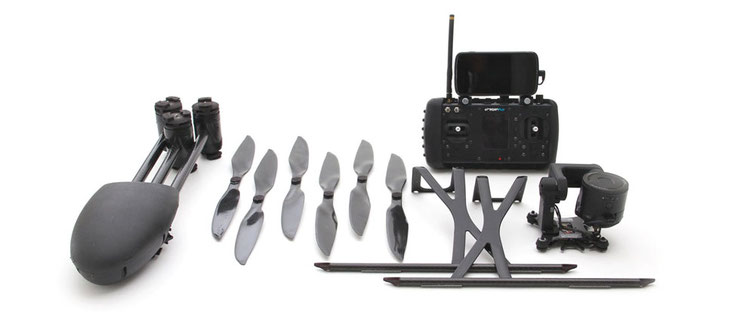 As you can see, Draganflyer X6 comes complete with all the necessary things for the first run. It remains only to attach the landing gear and propellers, charge the battery and you can take off.

Like other models of copter Draganfly, X6 is equipped with a processor 11 and a GPS sensor module, a landing gear and copter beams are made of carbon fiber that gives it strength and lightness simultaneously.

X6 has a home return function - Like other multicopter this class. To activate it, you can either manually or automatically, on loss of signal to the operator. In addition, there is a function of safe descent and landing; it can also be activated manually or automatically.
Of the features can be noted the drone following:
X6 is very mobile - its rays are formed (see photo above.) And propellers removed, allowing to pack it in a case;
Despite the fact that it is a professional geksakopter, at full load, it weighs just over half a kilogram. To achieve this weight managed by size and light but durable materials;
All flight data is stored on the microSD memory card, which can be useful in terms of improving the skills of piloting or in order to learn the cause of the problem;
Hexakopter fast - it can reach a speed of 50 km / h;
Instead Sony QX100 standard camera that runs complete, you can install another;
It is possible to program the movement of the camera during the flight.
As for the camera, the Sony QX100 known better for the quality of their photos by 20 mega pixels and optics Carl Zeiss. Although it can also shoot video in the resolution 1980h1080 at 30 / sec. Video bitrate obtained within 15-17 Mbit / s, and the audio recorded in the AAC LC codec bit rate at 128 kbit / s. Sound stereo.

Lithium-polymer battery capacity of 2700mAh lasts an average of 15 minutes of flight, but you can buy a battery at 5400mAh, thereby increasing the flight time to 25 minutes. Charging takes place within an hour and a half.
In contrast to the more modern models hexakopter, Draganflyer X6 is equipped with cardan suspension, which stabilizes the camera only at a pitch (pitch), while as a new suspension is stabilized by three corners.

Hexakopter Operated by remote control, which is equipped with a touch screen, on which data is transmitted telemetry during the flight and videos online.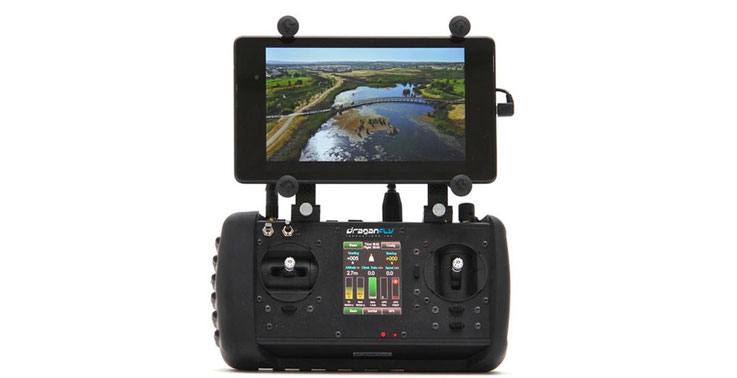 Dimensions: 840 x 900 x 265 mm
Diameter: 990 mm
Weight without battery: 1310 g
Replacement Weight: 335 g
Max. gross weight 1645 g
Max. rise rate: 2 m / s
Max. reducing the rate of 2 m / s
Max. rotation speed: 90 ° / s
Poppy. Flight speed: 50 km / hour
Min. flight speed 0 km / hr
Max. Height: 2438 m
Power Supply: Li-Polymer battery (included 2 pieces per 2700mAh)
Flight time from 10-15 minutes or more, depending on the battery
Dimensions: 62,5 x 62,5 x 55,5 mm
Weight: 179 g (with battery and media)
Matrix: Exmor R ™ CMOS 1.0 "
Lens: ZEISS Vario Sonnar T *
Optical zoom: 3.6x
Focal Length: f = 10,4-37,1 mm
Aperture: f / 1.8 (wide angle) - 4.9 (telephoto)
ISO: 160-25600
Record video: MP4, 1920x1080, 16 Mbit / s
Record audio: stereo, AAC LC, 128 kbit / s
Video from camera of hexacopter
Telemetry and video online
Despite the fact that the company copter Draganfly considered expensive, no one can say that Draganflyer X6 exceeds all imaginable and unimaginable price rates. Yes, it is sold for 8-9 thousand dollars, but keep in mind that paying this amount of money you do not have to buy additional accessories.

For example, if you think that geksakopter DJI S900 cheaper several times, then hasten to disappoint you - 1500 thousand dollars is only the frame, but all other parts (remote control transmitter and receiver, a ground station, camera, etc. ) have bought separately, resulting in price increases to 7-8 thousand dollars. And at a price equal to the final choice is much more difficult.
Perhaps in Draganflyer X6 has only two significant disadvantages:
The batteries of small capacity;
Outdated cardan suspension, which stabilizes only in 1 corner.
Of course, this can be remedied by buying a capacitive battery and a new variant of the suspension, but it is significant additional spending. As for the rest, Draganflyer X6 is very good - no wonder it is present on the market for several years.