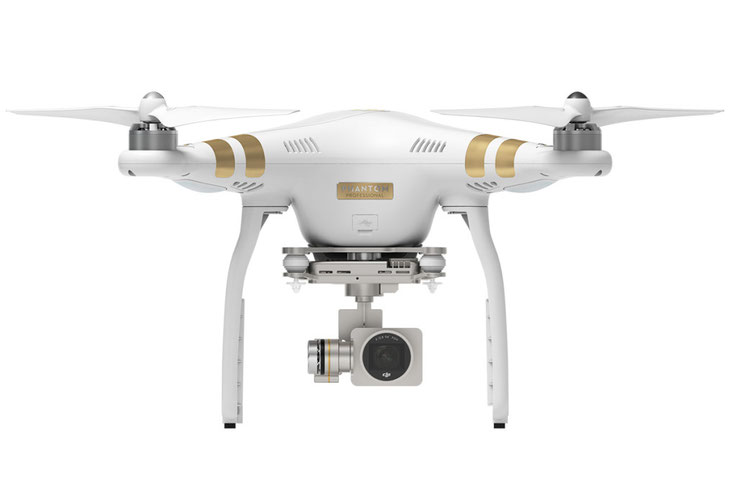 Title: DJI Phantom 3
Series: Phantom
quadrocopter Type: RTF
Release date: April 28, 2015
Price: $ 900
A year ago, in April 2014 it was announced and released DJI Phantom 2 Vision + - quadrocopter from a Chinese company DJI Innovations, which has already become well-known to those who are interested in radio-controlled drones. Then Vision Plus continued quadrocopters Phantom line and became one of the most popular quadrocopters last year.
A year later, in late April, will start selling the new model of the line quadrocopters Phantom. This time the famous series copter received radio-controlled drone with the number "3" in the title. What to expect and what to expect with the new quadrocopter - see below.
DJI Phantom 3 will be available in two editions: Professional and Advanced. The difference between these two models is only one: the camera. Actually, not even so: the only difference Phantom 3 Professional from Advanced capabilities in Ultra HD video capture resolution of 4096 × 2160 or 3840 × 2160, the so-called "4K" format. In fact, the Phantom 3 Professional camera is identical to the camera DJI Inspire 1.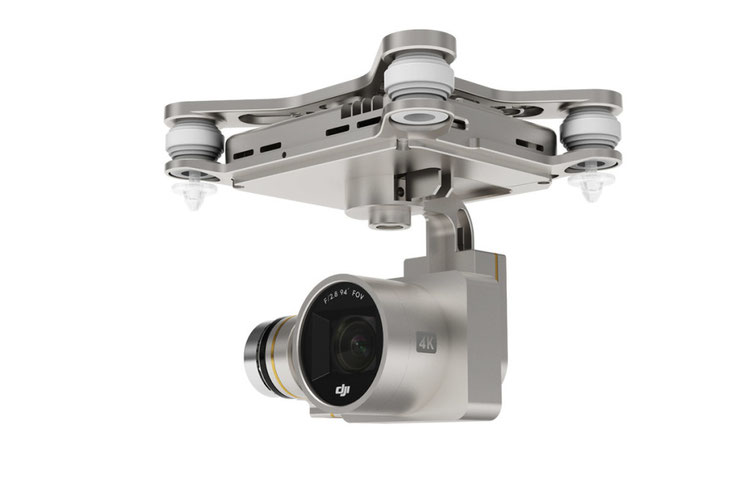 Otherwise, the cameras are identical: both versions have a 1 / 2.3 "CMOS-sensor is 12 megapixels with a viewing angle of 94 degrees. Photos are in the resolution of 4000 × 3000, it may be saved in the DNG format that is recognized by Photoshop. For more information about the technical characteristics of the camera, see below.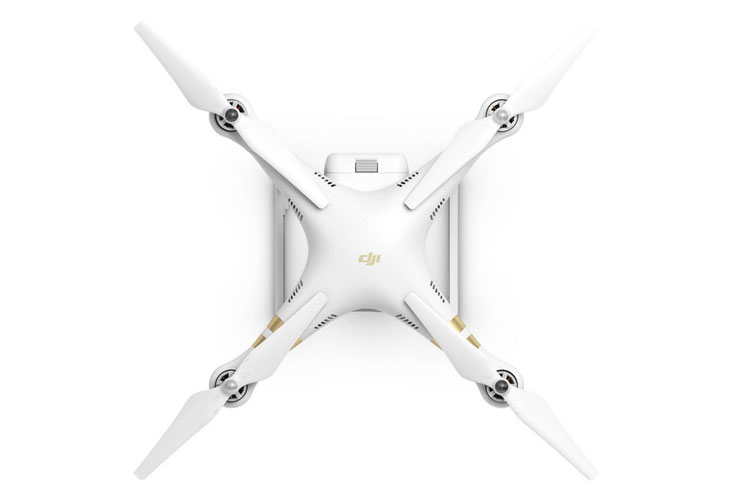 4K camera (in Professinal models) are not the only thing that distinguishes the DJI Phantom 3 from its predecessors. There are other differences, which we list below.
First of all, let us consider a new mode called Follow me. Previously, it was available only in quadrocopters DJI Inspire 1, 3DR IRIS + and a couple of others. What is the this regime?
For example, you love to ride a bike and is doing tricks. Get the hand you want to show them to your acquaintances, friends, and put on the Internet. You can ask a friend to take video of your stunts, and it is possible to use this camera with the drone, which will follow you (or rather, for your smart phone equipped with a GPS-receiver) and record everything on video. Cool, is not it?
Another feature of the new Phantom - video streaming. The very function of transmitting video online camera quadrocopter on the tablet or smartphone (FPV, the so-called "first-person") is not new, but its implementation in Phantom 3 please many: using technology DJI Lightbridge you can view the video in real time as 720p!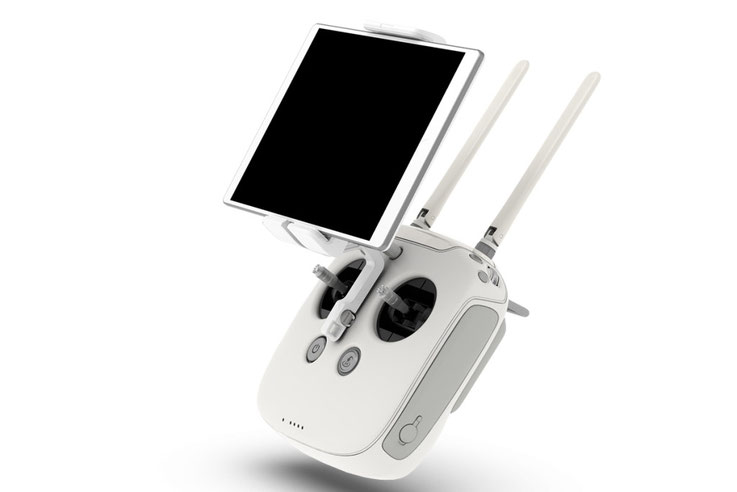 DJI Phantom 3 also boasts another new feature that is called «Point of Interest». It also relates to a video recording and allows you to fix the camera on some object on the ground, regardless of how you will manage quadrocopter.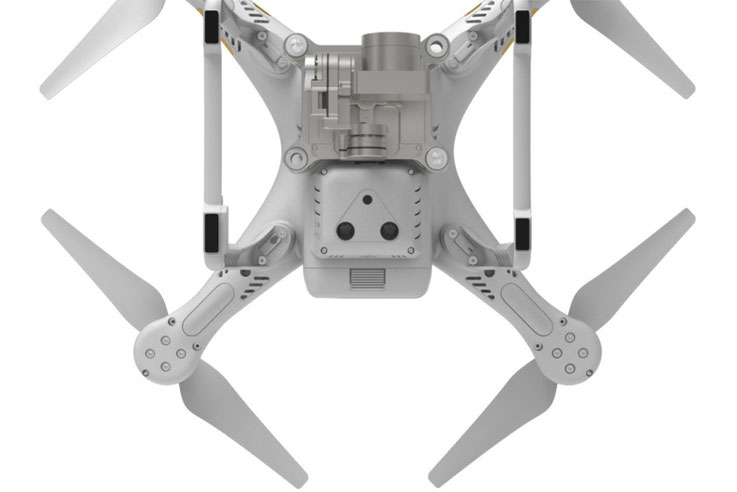 Among other things:
Phantom 3 has got the support of the GLONASS system, and the number of GPS-satellites has been increased;
Complete with quadrocopter is a new control panel. With him a radio-controlled flight range increased to 2 kilometers and maximum altitude increased right up to 6000 meters;
App DJI Vision replaced by DJI Pilot. Now videos can be edited directly in the smartphone / tablet, plus adds the ability to stream video directly to Youtube online;
Added support for the SDK, that allows you to create your own applications for the third Phantom;
Added additional sensors, including ultrasonic. This allows the pilot quadrocopter even indoors.
Total flight time DJI Phantom 3 is 23 minutes. Oddly enough, but official information about the flight time coincides with the tests - the new drone shows approximately the same flight time that is written in the instructions. DJI, you surprise me a pleasant sense of the word.
As DJI Phantom 3 is sold in 2 different versions, then it has two prices. Professional version can be purchased for 1259 dollars in the official shop, Advanced version sells for $ 999.
Weight (including battery and propeller): 1280 g
Size Diagonal (including the propeller): 590 mm
Max. rise rate: 5 m / s
Max. landing speed: 3 m / s
Accuracy flight
Vertical: +/- 10 cm
Horizontal: +/- 1 m
Max. Flight speed: 16 m / s
Max. altitude: 6000 m above sea level
Fluid temperature: from 0 ° C to 40 ° C
Support for navigation systems: GPS / GLONASS
Suspension: 3-Axis
The radius of the suspension control: pitch from -90 ° to + 30 °
Sensor: Sony EXMOR 1 / 2.3 ", 12.4 million effective pixels
Lens: f / 2.8 (20 mm equivalent), 94 degrees viewing angle
ISO
100-3200 (video)
100-1600 (photo)
Shutter speed: 8 sec - 1/8000 sec
Max. Picture Resolution: 4000 × 3000
Picture Modes:
Single shot
3/5/7 shots
Auto bracketing
Taymlaps
Video modes
Phantom 3 Professional:
UHD: 4096x2160p (24/25 fps), 3840x2160p (24/25/30 fps)
FHD: 1920x1080p (24/25/30/48/50/60 frames per second)
HD: 1280x720p (24/25/30/48/50/60 frames per second)
Phantom 3 Advanced:
FHD: 1920x1080p (24/25/30/48/50/60 frames per second)
HD: 1280x720p (24/25/30/48/50/60 frames per second)
Support for memory cards:
SD / SDHC / SDXC Micro SD
Maximum capacity: 64 GB. Speed: Class 10 and UHS-1
The maximum video bit rate: 60 Mbit / s
Supported file formats:
Photo: JPEG, DNG
Video: MP4 / MOV (MPEG-4 AVC / H.264)
FAT32 or exFAT file system (FAT64)
Working temperature from: 0 ° C to 40 ° C
Operating frequency: 2.400 GHz-2.483 GHz
Max. Control distance: 2 km
Outgoing video port: USB
Fluid temperature: from 0 ° C to 40 ° C
Battery: Lithium-polymer, 2-well 6000 mAh
Fixture is designed for:
Receiver Sensitivity: 101 dBm ± 2 dBm
Transmitter power:
Operating voltage: 1.2 A @ 7.4 V
Capacity: 4480mAh
Type: Li-Polymer, 6-well
Voltage: 15.2 V
Power consumption: 68 Wh
Weight: 365 g
Flight time: About 23 minutes (officially)
Working Temperature: from 0 ° C to 40 ° C
Max. energy consumption for charging: 100 W
Voltage: 17.4 V

Nominal power
Phantom 3 Professional: 100 W
Phantom 3 advansed: 57W
Title: DJI Pilot
EYRP: 100mW
Video Transmission Frequency Online: 2.4GHz ISM
Video quality: 720p @ 30fps
Supported OS:
iOS 8.0 or higher
Android 4.1.2 or higher
Recommended devices:
iOS: iPhone 5s, iPhone 6, iPhone 6 Plus, iPad Air, iPad Air Wi-Fi + Cellular, iPad mini 2, iPad mini 2 Wi-Fi + Cellular, iPad Air 2, iPad Air 2 Wi-Fi + Cellular, iPad mini 3 and iPad mini 3 Wi-Fi + Cellular. Optimized for iPhone 5s, iPhone 6, and iPhone 6 Plus
Android: Samsung S5, Note 3, Sony Xperia Z3, Google Nexus 7 II, Google Nexus 9, Mi 3, Nubia Z7 mini
Just beautiful videos that are recorded on the DJI Phantom 3 camera
On the flight characteristics can confidently speak only after the DJI Phantom 3, and after his customers appreciate all over the world. However, there are three things that you can say with a high probability:
Lucky for those who wanted to take the DJI Phantom 2 Vision +. In fact, for the same cost they will be much more advanced quadrocopter.
Prices of other quadrocopters as the DJI by themselves, as well as from other manufacturers are likely to fall, which will save money for those who can not pay for just over a thousand dollars for a radio-controlled drone with a camera.
DJI Phantom 3 - a 100% hit, which will discuss more than one month.