| | | |
| --- | --- | --- |
| Title | File Size | Download Link |
| Smart Drone app on Android.apk | 20.5Mb | |
| SmartDrone Mirage Pro Quick Start Guide.pdf | 9.4Mb | |
Red Arrow Racing drone - the first racing Smart Drone from the famous Chinese company Shenzhen Smart Drone UAV Co., Ltd. .. (hereinafter: SmartDrone or SMD). SmartDrone is a globally leading supplier of equipment for aviation and UAV.
A lot of experience has been gained in research and development (R & D; Research and Development), production and implementation of flight control systems, equipment for panoramic aerial photography, HD photography with simultaneous application to UAV.
SmartDrone has many awards for high achievements in software development. Has a strong support of state institutions such as the Beijing University of Aeronautics and Cosmonautics and the University of Shenzhen. Has received worldwide recognition in the field of composite coatings and materials for aviation.
Shenzhen Smart Drone UAV Co., Ltd. Set the world's leading position in the development and implementation of intelligent flight control systems for UAVs, with a view to its subsequent application for environmental protection, in aerial photography, geographic mapping, mineral exploration, disaster monitoring, road patrolling, power transmission survey , To monitor emergencies and reduce the consequences of natural disasters.
Ready to fly out of the box
Race format
design
Folding rays
Smart flight modes
HD Camera
Brushless motors 2204 2200KV in the coupe with ESC 15A
Maximum flight speed 72 km / h
Intelligent IOS orientation control
Flight mode for beginners
5.8G module
LED backlight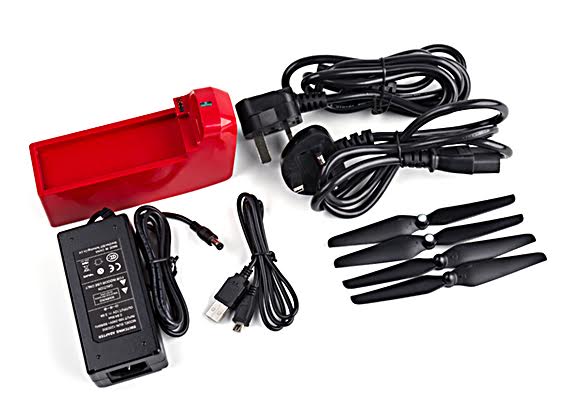 Drone Red Arrow Racing
2.4G / 5.8G transmitter with display
4 × carrying screws
2 × spare rotor
Charger
battery
User Manual
Altitude Hold Mode: Yes
Auto Take-off function: yes
Auto landing function: yes
Maximum flight range with optimal operation of FPV: 150 meters
Battery type of drone: 3S 12V / 2200mAh LiPo
Weight of drone battery: 195gr
Flight time: 15 minutes
Maximum speed: GPS mode: 18km / h / Sport mode: 36km / h /
Altitude hold mode: 72km / h
Maximum lifting speed: 10 km / h
Maximum speed of descent: 7 km / h
Maximum altitude at sea level: up to 4000m
Temperature for flights: -10 ℃ ~ + 45 ℃
Motors: 2204 Blushless Motor KV2200
Backlight of the drone: LED on each beam of the drone + stop signal
Dimension diagonal: 250mm
Dimensions (without screws): 346 × 313 × 85mm (expanded); 229 × 222 × 85mm (folded)
Weight of the drone (with battery): 550gr
Flight environment: indoor / outdoor
Image sensor: CMOS Panasonic
Electronic shutter speed: automatic
Photo Resolution: 1280 × 720
Video resolution: 1280 × 720p at 30 fps.
Compatible with memory cards: TF Card, Standard with 8Gb, max. Up to 32Gb
Photo format: JPG
Video format: AVI
Temperature for flights: -10 ℃ ~ + 45 ℃
White Balance: Automatic
ISO: Automatic
Onboard voltage: 12v
Current strength: 250mA
Operating frequency: 5.8 GHz
Stable transmission distance of video stream: 150m
Number of channels: 8
Operating frequency: 2.4GHz
Controlled distance: 300m
Temperature for flights: -10 ℃ ~ + 45 ℃
Power supply: 2S 5000mAh LiPo
Image output: built-in display with FPV transmitter
Equivalent isotropic radiated power: 20dBm
Operating current / voltage: 1.1A / 7.2V ~ 8.4V
Low battery warning: <6.8V
For the orientation in space for the drone Red Arrow Racing is responsible for a whole range of devices:
3-axis magnetic compass
3-Axis Gyroscope
3-Axis Accelerometer
Barometric sensor
Red Arrow Racing drone is assembled by the high-efficiency brushless 2204 KV2200 in a compartment with 15A voltage regulators of the own design of the Shenzhen Smart Drone UAV Co .. The combination of high-precision electronics and powerful brushless motors ensure the drones are sporty.
Red Arrow Racing drone showed excellent flight performance, dynamic, windproof, fully complies with the declared specifications in the specification. Excellent work of sensors in the compartment with intelligent flight modes minimize the period of adaptation to management, forgives all errors inherent in beginners. All functions of the drone worked without complaints.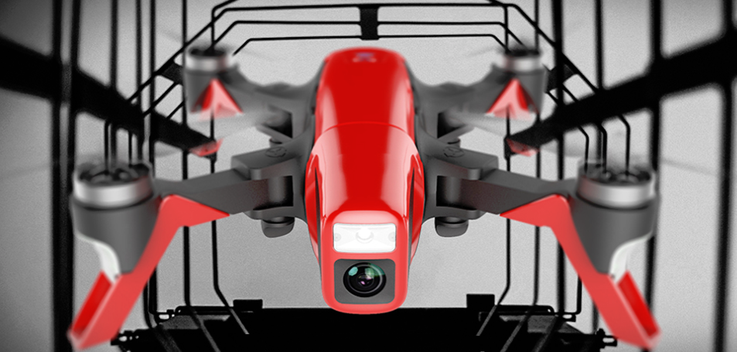 Red Arrow Racing has three programmed intelligent flight modes.
IOS (Intelligent Orientation Control)
Has a similar work with the notorious "Headless mode", with its activation for the drones, it becomes completely the same as where it changes the activity settings, the drone becomes responsive and ready to perform any aerobatics at the pilot's request, but the electronics are strictly Monitors the orientation in space.
Advanced
This mode is suitable for advanced pilots, the algorithm of operation is rebuilt in such a way that all the limitations of electronics are removed and the drone will be ready to give all 100%, and only the pilot is responsible for the orientation in space.
Beginner
The regime is for beginners only, speed and dynamic indicators are minimal, drone is imposing, safety is paramount. This mode is suitable for flight training.
Red Arrow Racing drone is equipped with a HD camera with a CMOS image sensor from Panasonic. It implements photo / video at a resolution of 1080 × 720/1080 × 720p at 30fps. Fully complies with the declared specifications in the drones camera specification. The picture as the photo and the video are clear without comments.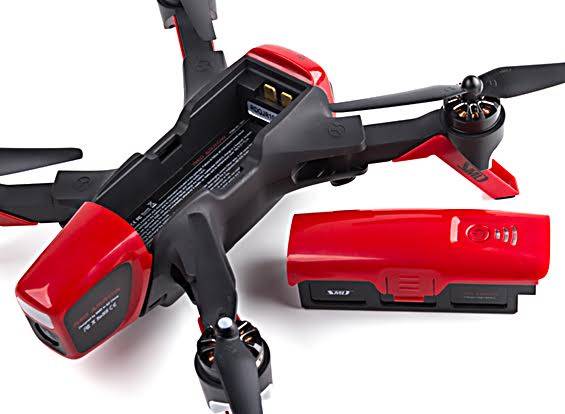 Power Red Arrow Racing drone corresponds to filling the quad 3S 12V / 2200mAh LiPo, providing the duration of flight in any mode of operation - 15 minutes.
The 8-channel transmitter Red Arrow Racing works at a frequency of 2.4 GHz, the controlled distance is 300 m, it is equipped with a built-in display with a FPV transmitter. Provides a reliable transmission of video signal to a distance of 150 m. Power is provided by a powerful battery 2S 5000mAh LiPo.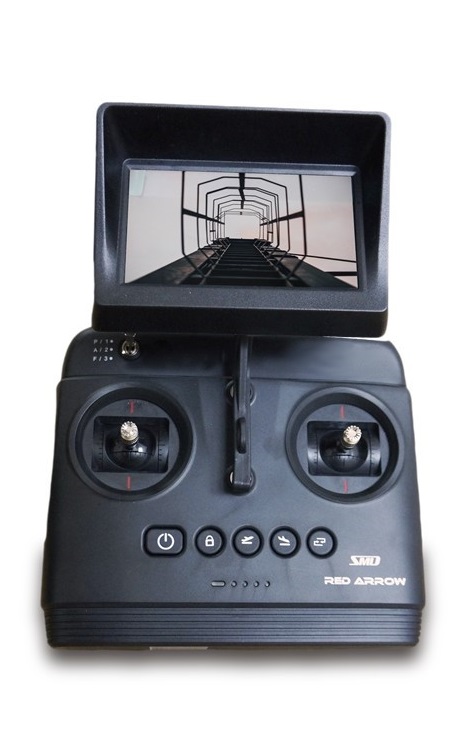 Pros:
- design, speed, management
- quality of execution
- racing format 250
- foldable rays (compactness)
- Intelligent flight modes
- HD camera, 5.8G module
- brushless motors
- Intelligent IOS orientation control
- flight mode for beginners
- LED backlight
Cons:
- No home return function
Another version of the racing Smart Drone adapted for flight training for beginners. Fully justifies the money spent on the condition of buying abroad. Perfectly suits both pilots of PRO level, and beginners who for the first time decided to try the flights on the drones of the racing format. Long-playing purchase can give positive emotions from piloting for more than one year.