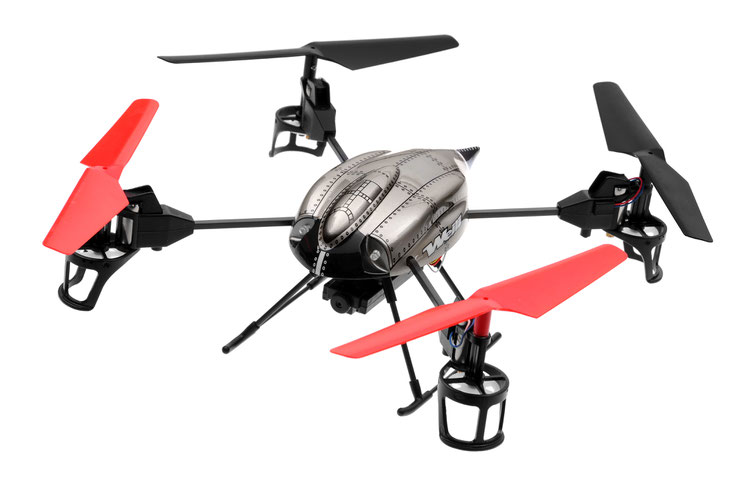 Title: WLtoys V959 'Battleship' Quadcopter
quadrocopters Type: RTF
Price: about $ 50
WLtoys V959 - a small amateur quadrocopter, housing design that is identical Hoten-X. What you can expect paying $ 50 for a radio-controlled model - read below.
Paying $ 50 you get:
Quadrocopters WLtoys V959
Charger
Li-polymer battery 500mAh
mini camera
2 or 4 spare propeller
remote control (batteries included do not go)
microSD Memory Card 2 GB
card reader for memory cards
As you can see, the price includes all parts and supplies, in addition to the batteries to the remote control.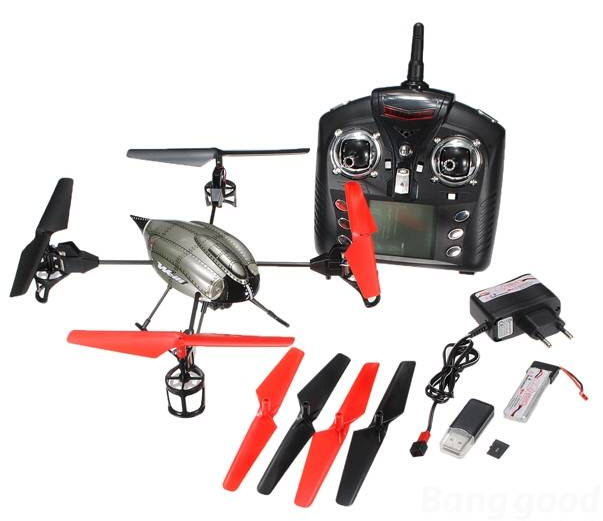 It just so happened that before in the hands of us got WLtoys V222 'Transmitter' - quadrocopter that the size of a little more than V959 (the copter to the width and height of 180 mm, while the V222 - 305 mm), which is equipped with an accelerometer, and more new transmitter and receiver, and the technical characteristics are absolutely identical to its predecessor. Because we will not be repeated, but just give a link to a review WLtoys V222, because even in flight V959 behaves identically to a newer model.
WLtoys has long been in the market of radio-controlled models, including copter, but because they know how to sell goods. Many models have quadrocopters general settings and details, differing only in minor changes.
V959 PRO - a more advanced version of V959. Firstly, quadrocopter increased in size and now the length and width of 305 millimeters it all. Secondly, copter received more advanced receiver and transmitter. In general, this version is even more similar to the V222 and it features only the absence of the accelerometer.

These changes resulted in an increase in the price of 10-20 dollars, depending on the store.
The diameter of the propeller: 145 mm
Dimensions: 190 x 190 x 80 (Battleship) / 305 x 305 x80 mm (Battleship PRO)
Weight without battery: 65 g
Battery: Lithium Polymer, 3.7V with a capacity of 500mAh
Charging time: 40-60 minutes
Flight time: 10 minutes
Range: 100-150 meters
Video resolution: 640 x 480
Frame rate: 30fps / s
Picture Resolution: 1280x960
Operating Frequency: 2.4Ghz
Maximum height: 90-100 m
Power Supply: 6 AA batteries
The video review of quadrocopters WLtoys V959
Flight and Fall of quadrocopters WL Toys V959. Video on-board camera
Another video recorded on the camera of copter
Video recorded in Singapore
Review of flight V959 in English
WLtoys V959 good value for money. He flies well, equipped with a camera, and its configuration can be the envy of many manufacturers quadrocopters. If you want to get a high-quality radio-controlled drones for a small cost, the V959 - a great choice.