Align M424 V2 - the first quadrocopter from the Taiwanese company Align, released in the fall of 2013. What was the "first attempt" - see below.
Title: Align M424 V2 Quadcopter
quadrocopters Type: RTF
Price: about $ 100 (Super Combo)
Release Date: Fall 2013
Align M424 can be classified as small quadrocopters 250 class. The length and width it stretches for 240 mm (including the propeller) and the propellers themselves length is 135 mm. Quadrocopters height - 52 mm. In general, even longer quadrocopter Blade 200 QX and size can compete with the copter more serious weight category.
As for equipment, everything is as usual: remote control, battery, charger CH240 and 4 spare propeller with quadrocopters are included. Do not buy is not necessary - everything goes with quadrocopters.
AT100 control unit supports 3 flight mode operates at 2.4Ghz frequency, and that the most interesting - is powered by a rechargeable nickel-metal-hybrid battery capacity of 1600mAh. This is a significant plus, in our opinion, as other quadrocopters for $ 100-200 usually come with remote controls that operate on conventional batteries.
The M424 also uses the familiar Lithium-polymer battery 530mAh. Its capacity is enough for 7-8 minutes flight. Yes, it's a little, but it is quite normal for quadrocopters for such costs.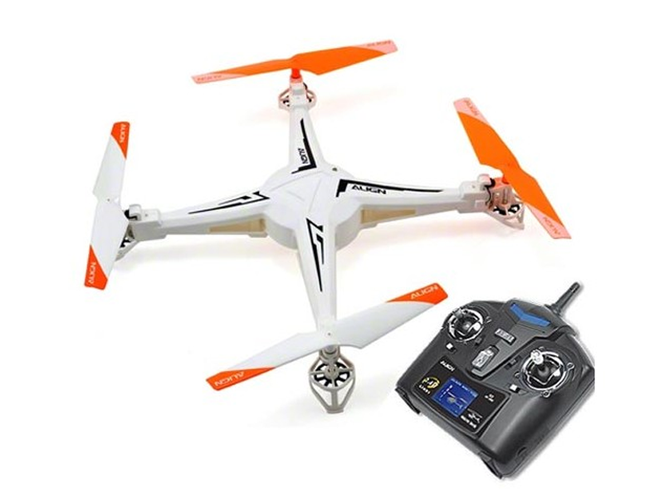 An interesting feature is the ability to quadrocopters manage it with the help of Android / iPhone device. To do this, you need to purchase a special accessory, the value of which is around $ 20-30.
Dimensions: 240 x 240 x 52
propellers Length: 135 mm
Battery: 3.7V 530mAh
Flight time: 7-8 minutes
Weight (without battery): 82 g
Weight (battery) 96 g
The flight of quadrocopters
Align M424 V2 - quadrocopter good for beginners and those who have low requirements in terms of speed and maneuverability. Experienced radio amateurs the copter just do not like it.