| | | |
| --- | --- | --- |
| Title | File Size | Download Link |
| MJX X101 User Manual.pdf | 18.9Mb | |
| MJX X102H User Manual.pdf | 2.5Mb | |
| MJX X300C User Manual.pdf | 2.3Mb | |
| MJX X400-V2 User Manual.pdf | 2.5Mb | |
| MJX X401H User Manual.pdf | 3.1Mb | |
| MJX X500 User Manual.pdf | 19.4Mb | |
| MJX X600 User Manual.pdf | 19.8Mb | |
| MJX X601H User Manual.pdf | 3Mb | |
| MJX X800 User Manual.pdf | 1.6Mb | |
| MJX X901 User Manual.pdf | 586.3kb | |
| MJX X902 User Manual.pdf | 1.3Mb | |
| MJX X904 User Manual.pdf | 1.5Mb | |
| MJX X905C User Manual.pdf | 1.5Mb | |
| MJX X906T User Manual.pdf | 1.4Mb | |
| MJX X909T User Manual.pdf | 1.3Mb | |
| MJX X916H User Manual.pdf | 2.3Mb | |
| MJX X919H User Manual.pdf | 942.2kb | |
Meijiaxin Toys - MJX R / C Technic is a leading manufacturer of radio-controlled cars and aircraft. The main factory is located in Guangdong China, and the main office is in Hong Kong. In 2015 Meijiaxin Toys introduced three new models of drones (multicopters), one of them - MJX X500. MJX X500 is recognized by many as the most successful model of the quadrocopter in 2015.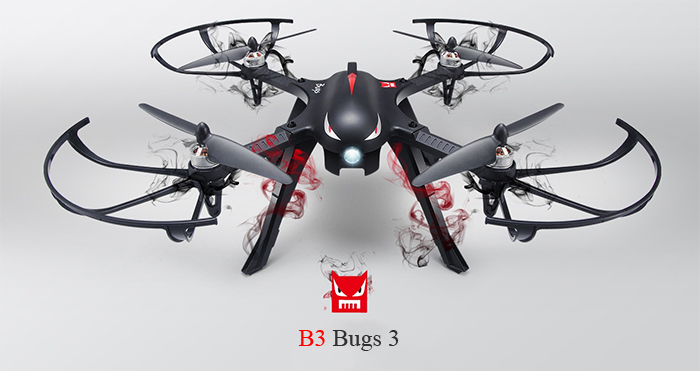 About this model Meijiaxin Toys hinted back in November 2016, the sale of drone came in January 2017. His popularity grew with every new sale and with every fresh review from the consumer. We are glad to present you a budget "lighter" on brushless motors - MJX BUGS 3.
Brushless motors
3S battery support
Flight time up to 19 minutes
Removal distance 300-500 meters
Control over battery charge and removal distance
Control at a frequency of 2.4 GHz
2 mode of expenditure
Without axial suspension, adapted for GoPrO cameras and analogs
Flips 360 °
Super bright LED backlight
Wide range of add. Accessories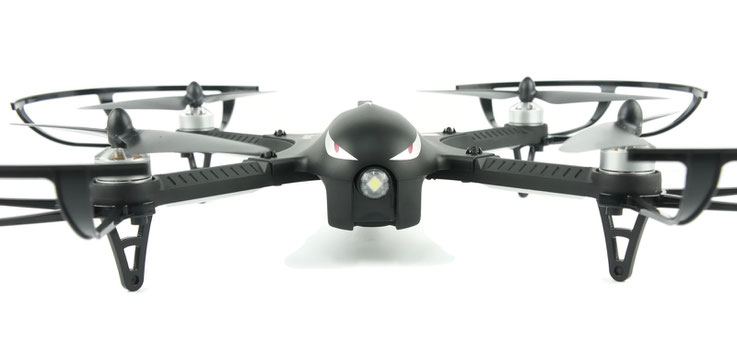 At the moment, the manufacturer offers a drone in two colors: black and red (previously only black).
Quadrocopter MJX BUGS 3
Battery 2S 7.4V 1800mAh 25C LiPo
Equipment 2.4GHz (power from 4 × AA is purchased separately)
Without an axial suspension under the GoPro camera and its analogs (the camera is not included in the kit)
4 × carrying screws
4 × spare rotor
4 × rotor protection
4 × landing mounts
Charger (Euro plug type, requires a network adapter for our sockets)
A set of spacers (to compensate for gaps when installing cameras in a non-axial suspension)
Set of branded stickers
Tool (screwdriver + key for unscrewing the screws)
User Manual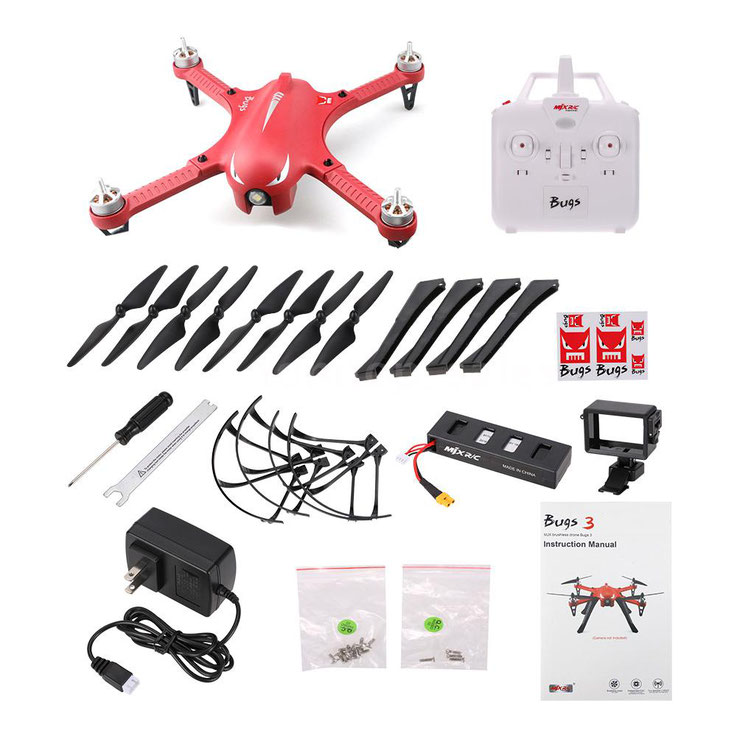 The manufacturer did not offer the customer a different set of drones, as others do, but just prepared a number of upgrades that you can buy at any time, when you find it convenient.
FHD sport camera (1 model C4000 1080P)
Panoramic camera 360 ° (model C4022)
WiFi FPV camera (model C4020)
5.8GHz FPV camera (model C5820)
The retrofit package is 5.8G FPV Camera (the kit will include: 4.3 inch LSD monitor + FPV camera 5.8GHz model C5820)
The retrofit package is 5.8G FPV Camera (the kit will include: 7 inch LSD monitor + FPV camera 5.8GHz model C5820)
MJX Goggles Standard upgrade package (bundled with VR glasses + 7 inch LCD monitor)
MJX Goggles Top Upgrade Package (bundled with: VR-glasses + FPV camera 5.8GHz model C5820 + 7-inch LCD monitor)
It is worth noting that all cameras and monitors that enter the dopas are installed and connected to the drones and equipment without much effort. (See the video)
Brand: MJX
Model: BUGS 3
Color: black / red
Stabilization: 6-axis gyroscope
Radio frequency: 2.4 GHz
Transmitter power: 4 × AA 1.5V (purchased separately)
Suspension: bezosevoy, adapted for GoPro and its
Analogs
Motors: brushless type MT1806 1800kv
Battery capacity: 2S 7.4V 1800mAh 25C LiPo
Backlight: LED
Flight time: up to 19 minutes
Range of flight: 300-500 meters
Flight environment: indoor / outdoor
Charging time: ≈ 240 minutes
Material: nylon fiber
Frame: 310mm.
Dimensions: 310 × 310 × 140mm
The weight of the drone without a camera (with battery): 472gr.
Weight of the drone with GoPro (with battery): 540gr.
Age restriction: 14+
Prior to the consumer, MJX BUGS 3 comes in a classic cardboard package for MJX Toys, inside which is a foam plastic box.
The quality of performance for a budgetary drone deserves respect, the body of the drone is made of nylon fiber, which has proved to be a strong and reliable material, while the landing supports are made of ordinary plastic and they are not reliable by tactile sensations.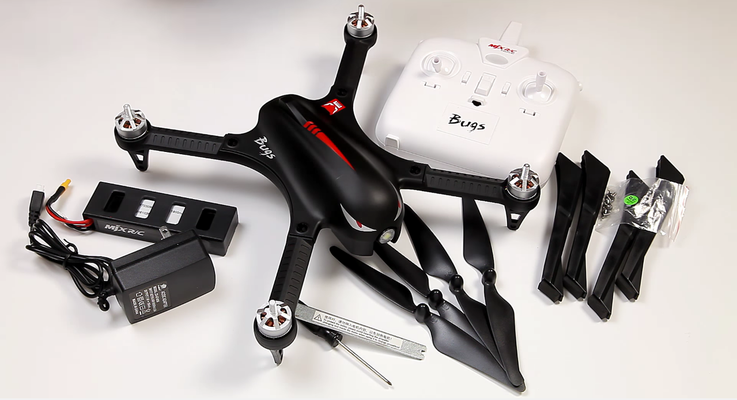 The design of the fuselage for the amateur, the frontal part shows the eyes with a spiteful squint, in the bow is located without exaggeration a powerful LED. In general, there is nothing to complain about, everything is laconic and simple and in a demonstrative quality.
Quadrocopter MJX BUGS 3 is equipped with brushless motors of the type: MT1806 1800kv. The manufacturer characterizes them as the most economical and efficient among similar brushless motors. Each motor provides thrust in 230grams and for them flying with an action camera is like flying with a "piece of cake", no more.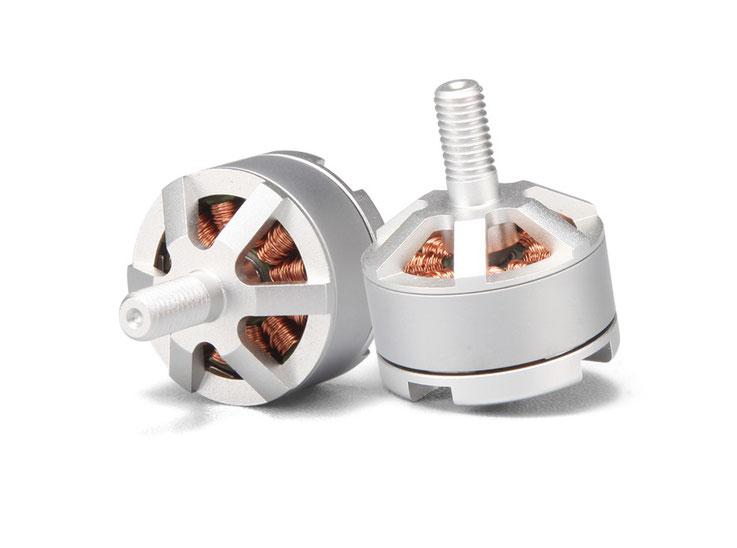 MJX Toys the first who implemented speed controllers (ESC) in the budgetary drone with automatic protection against jamming thereby eliminating the burnout of motors, for example, at the time of crash. Also worth noting the good news, the regulators support the use of 3-cell (3S) lithium-polymer batteries.
As already mentioned above, the kit includes an axle suspension with the possibility of manual adjustment "up" and "down", adapted for the GoPro camera and its analogs. The camera itself does not come bundled and is separately purchased.
The drone BUGS 3 is equipped with a not bad two canister (2S) lithium polymer battery (LiPo) with a capacity of 1800mAh with a discharge current of 25C and an XT30 connector, the battery itself is enclosed in a kind of box. According to the specification, it provides a continuous flight time of up to 19 minutes.
The kit comes in part standard for budget quad devices, operating at 2.4GHz, its distinctive feature is the intelligent remote control function, whose work is to notify the pilot about either a low battery charge or that the distance of removal is close to the critical one . The transmitter is powered by 4 AA batteries. The distance of removal according to the specification is from 300-500 meters.
Pros:
build quality
Easy to use
A great option for the first experience with drones on brushless motors
Powerful and fast
Well adjusted expenses
LED backlight
Feedback with drones with weak charge and critical removal
Compatible with 3S battery
price
Cons:
In runoff, flight time does not meet specification
The suspension has no protruding dampers (jelly, vibrations present)
At such a dynamic lack of Acro mode
Stock battery comes charging
A very pleasant surprise from Meijiaxin Toys, without exaggeration, this is the best offer for $ 120 for today. We would not recommend the MJX Bugs3 as the first UAV, but it's more than ever for the first experience with a drone on brushless motors. Quad Bugs3 is absolutely exactly worth the money spent and will no doubt become a long-term purchase, especially if the drone is equipped with an FPV kit. Age limit is 14+.