| | | |
| --- | --- | --- |
| Title | File Size | Download Link |
| Helimax Blade Balancer User Manual.pdf | 33.2kb | |
| Helimax Digital Pitch Gauge User Manual.pdf | 155.5kb | |
| Helimax 1Si User Manual.pdf | 791kb | |
| Helimax 1SQ User Manual.pdf | 577.5kb | |
| Helimax 1SQ V-Cam User Manual.pdf | 579.6kb | |
| Helimax 230Si User Manual.pdf | 465.5kb | |
| Helimax FORM500 User Manual.pdf | 639.2kb | |
| Helimax M4050 AVCS Heading Lock Gyro Quick Start Guide.pdf | 101.7kb | |
| Helimax TX610 Radio System - HMXJ2025 User Manual.pdf | 468.5kb | |
| Helimax Voltage 500 3D User Manual.pdf | 400.4kb | |
Helimax company specializes in the production of small helicopters and 1SQ model is the smallest in their lineup. This quadrocopter is ideal for both beginners, who recently discovered the exciting world of helicopters, as well as experienced professionals who just want to direct the 1SQ her around the house or yard.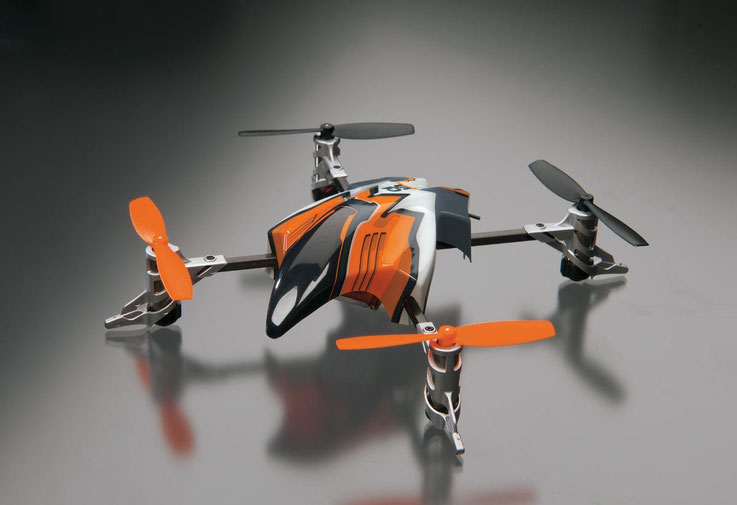 This small model quadrocopters equipped with stabilization system based on 3-axis gyroscope. This company Helimax stabilization system installs on other models of helicopters line, including 100 Axe CP / FP. The commercial name of this system - TAGS, which means "stabilization system based on 3-axis gyroscope."

Quadrocopters available in two configuration option: RTF (ready to fly, complete with transmitter) and Tx-R (transmitter required). The second option allows the use of a complete set of your own transmitter, and today we are going to feel it was his.
Model HeliMax 1SQ comes in a portable box that can be used in the future for the transport and storage quadrocopters. To work with its own transmitter must connect option Tx-R module AnyLink production company Tactic.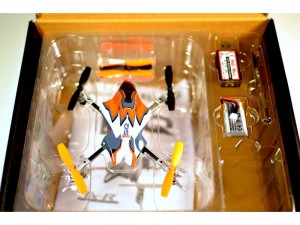 Both quadrocopters (Tx-R and RTF), as well as the accessories supplied carefully packed in a transparent plastic tray with indentations for extra protection. The tray also has a recess located beneath quadrocopters for storing remote control. Looking at the picture shown above models in a blister pack, it seems that quadrocopter hovers in the air.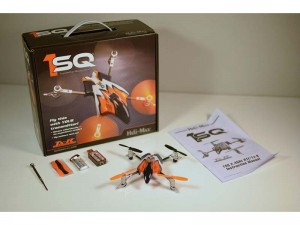 Contents of delivery:
Quadrocopters 1SQ - 1 pc.
Battery (1S 250 mAh) - 1 pc.
Charger powered by USB-ports - 1 pc.
Spare propellers - 4 pcs.
Screwdriver Phillips - 1 pc.
User manual
1SQ model is powered by 1-cell 250 mAh battery (supplied). Other accessories include a charger that can be connected to USB-port computer or mobile phone charger. Also included is a set of interchangeable propellers and screwdriver Phillips, which will be useful in case of replacement of engine mounting.
Charger powered by USB-ports is useful when you are at home, probably because in you have a computer with a USB-port. If you're away from home or at a local airfield, do not forget to bring the charger for your mobile phone! It is unlikely that your standard charger has a USB-port. We found that the distance between the contacts corresponding to the contacts connector on the servo wire. In a hurry, you can remove the cover from the extension cord connector servo plug contact for connecting the battery connector and charge the battery with the charger lithium polymer battery (parameters: lithium-polymer battery, 3.7 V, 300-400 mA) . Be careful not to reverse the polarity, if you decide to make your own adapter. Ate you're not sure you can do it yourself, you can order an adapter from a catalog company Helimax (Heli-Max Battery Plug Adapter w / JST Plug, HMXE2123 article)
Quadrocopters is vacuum-molded hull streamlined shape, which can be clearly seen, which ensures comfortable control of the orientation of the machine in the air. Orientation is important for quadrocopters because its design is ideally symmetrical. Helimax Company has solved this problem with the help of colored labels and cockpit, elongated towards the bow.
Brain Machine is a microprocessor located in the center of the electronic board, the 32-bit ARM microcontroller architecture. 3-axis gyroscopes are located in the left side of the board, and are similar to those installed in smartphones and tablet PCs. Motor controllers and a receiver located on the other side of the board. Thanks to the sophisticated and dense arrangement of parts machine has a low weight and sensitive to manage.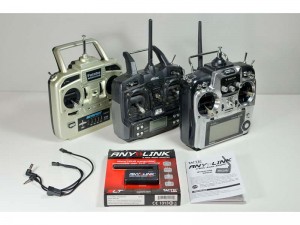 The receiver is mounted on the board and can not be replaced. To control quadrocopters Helimax company proposes to use a special transmitter, available for a complete RTF, or its own transmitter, which is required for a complete Tx-R. To signal from your transmitter quadrocopters be recognized, you must use the module from the company AnyLink Tactic.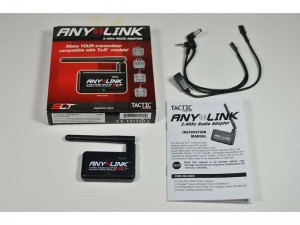 Configuring the module is not difficult, and it works with any transmitter, provided that it has the port to configure. To test the following remote controls are provided: one, two Futaba and Hitec Optic 6 sport. One control Futaba is only 4 axes (for 1SQ requires 6 axes), in addition to the standard AnyLink module does not have the appropriate connector for the Hitec remote (it exists, but it needs to be ordered separately). Therefore, tests were carried out using the remote Futaba 10CP.
For this model quadrocopters not require additional installation, but it is strongly recommended to read the user manual!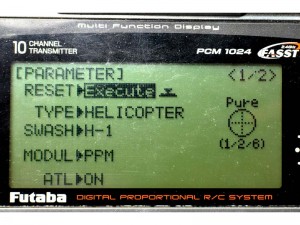 Place the remote control in the "helicopter" mode (helicopter), and for setting SWASH (swash plate) set H1 mode. In this mode there is no communication between the different axes on the remote control. All these settings for remote Futaba T10 are in "parameters» (parameters).

If the transmitter is in the "airplane" mode instead of "helicopter", the gyro sensitivity is not controlled, and as a result 1SQ flight will behave quite reactive.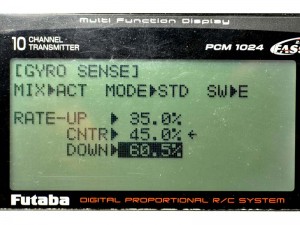 Gyro settings dependent on the remote control and the applicable standard. Our own tests have shown that it is better to start with a low value for the STD setting of the gyroscope and further increase it. For remote Futaba 10CP is recommended to select the initial value of 45% STD. This value quadrocopters easy to manage, it behaves stable and shows good momentum.

With 60% STD for gyro quadrocopter begins to show aerobatics. Bringing value to 70%, you may perform a half roll or loop the loop.

For gyro setting we used 35% STD, to ensure perfect stability quadrocopters in the air for still images.
1SQ refers to the model, which reveals its capabilities as you spend time managing it. At first glance, the size quadrocopters looks attractive, but she resembles a miniature model helicopters, which were very popular a few years ago. The range of operational flight envelope 1SQ and its power exceeded all that I have seen in other models of small aircrafts in this category. Despite its small size, quadrocopter able to perform complicated maneuvers, and it shows high stability in flight.
During our tests 1SQ tried many pilots with different backgrounds, ranging from experienced to novice helicopter pilots. I can confidently say that all of them quadrocopter liked, they mastered the basic machine control techniques or performed a loop and the slope at low altitude. In general, Helimax 1SQ successful model and I would not be surprised if this quadrocopter become a model of stability and controllability. I would like to wish that the next version of this machine company Helimax increased flight time and has included a spare battery!