Drones for baby
Despite some nuances, many parents are allowed to have a baby is not a dog, namely quadrocopter. Should we join them, we will define the arguments "for" and "against" below, and if your decision is positive, we will consider next a number of models, after which the child will be unspeakably happy.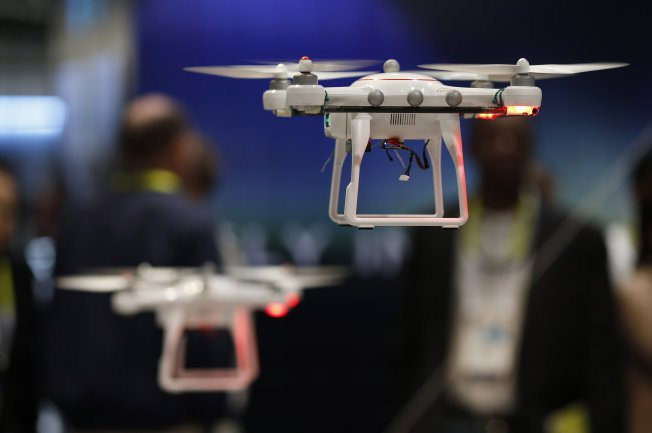 Quadrocopter guide for children
Now thousands of models of quadrocopters can be found on the shelves of real and virtual stores. Many of them are created specifically for children and at the same time their price is quite attractive and low. But that this quadrocopter was really designed for children's games, it must meet certain requirements, namely
The strength of the structure;
Simple operation;
Availability of spare parts;
Compact size.
Let us consider them in more detail.
Structural strength
In children's games, the strength of toys is one of the key factors. The toy should be ready to repeatedly bump into various objects - the walls of the house, the trees, and at the same time do not break. Especially this rule should concern the body of models, and not some parts of the drone, which are fundamentally difficult to make shockproof, for example, propellers. They break after a couple of unsuccessful collisions, and this will have to be tolerated. But more on that later.
Simple operation
We understand the fact that by reading this material you will most certainly buy the first children's quadrocopter. At the same time, it is important that its management is simple enough and understandable even for a novice operator. Otherwise, the child for whom the flying model is bought will be frustrated with the failures in the management and quickly throw the toy, so plenty and not played enough with it, which is undesirable, given its cost.
To do this, the model must have a flight for beginners (beginner mode) by which the drone will automatically stabilize. In this case, management will only be relatively easy, because to obtain the necessary skills will require a really long practice, and not 5 minutes.
When buying, it is also worth considering the prospect. So, having learned to manage, the child will want to experience more opportunities, and master all sorts of tricks and professionally manage the model, and not at the level of an amateur.
Availability of spare parts
As parents, you should understand that no matter how carefully and carefully the child and you treat the quadrocopter, he will sooner or later break. That is why it is important that the sale of a quadrocopter for a child has spare parts. Otherwise, the period of its use will be reduced several times, and after the first breakdown, it will go to the trash. It is also important that they are easily replaceable and inexpensive. Knowing this, they should also be purchased in advance, so as not to wait in horror for monthly delivery from China.
Compact size
Despite the miniature dimensions, many quadrocopters for children, including Estes 4606 Proto X, can fly not only indoors, but also beyond. Do not forget about protection. It though, also adds models of volume and weight, but it at first will protect from damages propellers from breakages.
Based on personal experience, we note that it is quite difficult to spoil objects inside the room, even with minimal skills for controlling the quadrocopter. This is facilitated by compact dimensions and low weight of models. But do not forget about pets that will attract a new object of attention.
Also remember that not all children's quadrocopters are equally good. Some of them are really disgusting, this characteristic concerns both assembly of the device and its technical parameters, such as flight stability. Buy a model a bit more expensive than the one you originally chose, and you will understand the difference. But still, after buying, pay attention to the following.
Attention, parents!
Considering all the information you could get from the media in the past year or two, we note that quadcopters are not so dangerous as to not buy them. Nevertheless, the drone is not a toy in the classical sense of the word. This expression refers primarily to high-quality quadrocopter. These devices are complex designs that quickly rise and fly high. They can harm people and other things in a collision. In addition, some ignorant people of the older generation may not even frighten them.
Flight training will take time. Do it better in an open space and in stages, in order to fully understand the principle of governance. Full control of skills will be obtained even for a day, but only after a few weeks of active practice. But the process is fun, you will make sure of this when you take your first steps with your child.
Read the legal restrictions
The laws concerning quadrocopters and similar drones seem funny, but that does not mean that they should not be read. Some of them concern exclusively commercial use of devices, but in different countries and cities there may be an additional restriction even for the use by private individuals.
For example, in some closed territories their use is completely prohibited or significantly limited. Legislation in this part is now actively developing and should be monitored even if you already have a drone.
If warning signs are not taken into account, the regulatory authorities may take your aircraft away from you and even impose a fine.
Human factor
Realizing how important the safety of other people is in operating a quadrocopter, warn your neighbors of the intention to launch a drone into the air, so as not to shock them and prevent frivolous fears about its use, because they can also cause a call to the police or other bodies.
It is also important to specify the details of using the toy with the baby. It is very important that he understands the share of his responsibility for managing such a device and all the risks involved.
Well, now we start to consider the selected children's models, the most satisfying the requirements described earlier.
The list of baby's drones
Hubsan X4 with FPV Camera
The first in the list is the Hubsan X4 series. This model is not new, but already for two years keeps its position in the ratings. The X4 still has an excellent flight stabilization, it is easy to control, and yet strong enough. quadcopter.
For children there will be a more interesting modification with an FPV camera. This model is one of the inexpensive quadrocopters with a camera, whose resolution is enough to monitor the flight through a small screen of equipment.
The X4 model has a 6-axis flight stabilization with a tunable gyro. This means that stabilization is not just good, but it makes it easy to fly. The flight range is 100 meters, and the range of the camera signal is the same.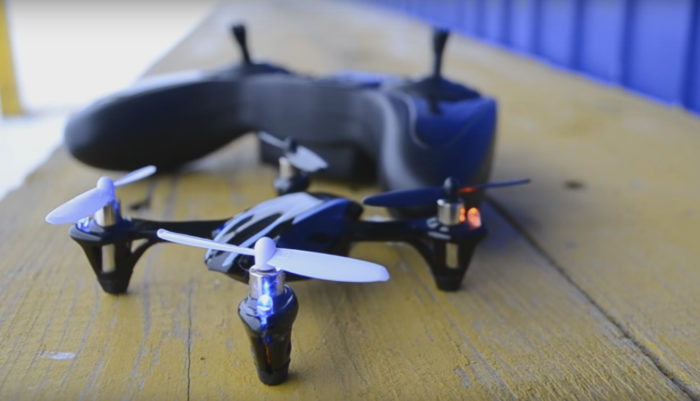 The flight on one battery charge will be 7 minutes, and it will take to charge it for half an hour, using a charge from USB. Indeed, the X4 has built-in LED backlighting, which flashes to indicate that an urgent landing is required. It can be seen in the evening.
There are a couple of modes of piloting - for beginners, and for experts. The first is very simple with a small speed range, but the second one gives full control over the device and removes all restrictions. It has even a few built-in tricks. If the budget is very limited, it is worthwhile to dwell on the same model without a camera.
In the open sale, you can find spare parts for it, like propellers and additional batteries.
Dromida Ominus with FPV Camera
Model Dromida Ominus little known, but we should not lose sight of it. Ominus is worth its money. It is durable and easy to operate. He has characteristics similar to the model described above, but a little more in size, which allows for greater stability of the flight outside the house.
Function FPV in it is realized on the basis of the camera 1MB. Data from it as HD can be broadcast to a smartphone or tablet with iOS or Android. The capacity of the battery will be enough for 8-10 minutes of flight.
Flight mode it immediately 4: Easy, Simple, Advanced, Professional. Each of them responds with a degree of responsiveness of the console, the highest speed and special functions. Using them step by step you can increase the complexity of piloting. At maximum costs, its speed will reach 30 miles per hour.
But its main advantage is still its strength. He also has LED backlight. If you want, you can also choose a model that meets personal preferences, because it is available in four colors - red, green, yellow and blue.
The 6-axis stabilization system includes a 3-axis gyroscope and a 3-axis accelerometer, but its quality is slightly below the Hubsan X4 level.
Blade Nano QX
Consider another popular brand - Blade. Her model Nano QX is great for children. In addition to being very durable and easy to operate, it has an attractive design for children.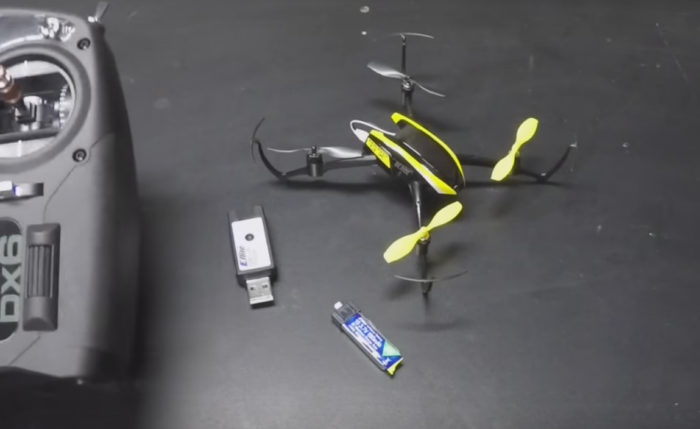 The peculiarity of the QX design is that its axles are flexible, which reduces the probability of crash during a collision. Protection screws on the QX built-in. The model has 2 piloting modes. For beginners - with the stabilization of flight, and for professionals - with increased maneuverability.
Flight time is 7-8 minutes, which corresponds to the frames set for quadrocopters of this size. The flight range is also average. The Nano QX has no cameras, but there is LED backlight.
Cheerson CX-10
The latter is on the list, but the highly popular Cheerson CX-10. It is so small that it fits on the palm of a child. It's just perfect for kids.
It has several flight modes, a stabilization system and a body on a solid frame.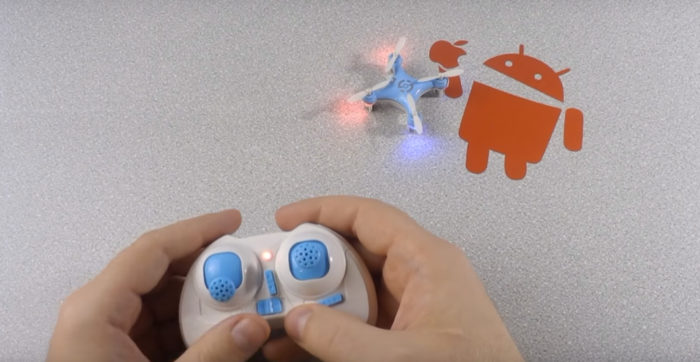 CX-10 is fast and maneuverable, yet easy to operate. The only downside is that it is more suitable for flights inside the premises. And since its price is low, they can be purchased several and arrange a home race.